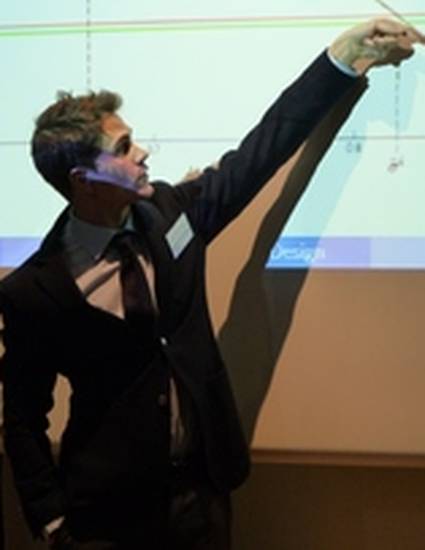 Popular Press
Professor Jaime Luque Creates Shining Example of Innovation at the Wisconsin School of Business
Wisconsin School of Business News (2017)
Abstract
In 
Professor Jaime Luque's
 "Regional and Urban Economics" course, the semester began by placing the students into small groups, then charging them with a not-so-small task of producing a report for a hypothetical real estate developer who is interested in providing affordable housing in Madison. The supposed tenants came from low-income households with jobs that pay minimum wage and were either at risk of becoming homeless or were already homeless. 
To begin the semester, representatives from 
Porchlight
 (a Madison organization helping to decrease the homeless population by providing shelter, housing and support) and 
The Road Home
 (a Dane Country program assisting in moving families into stable housing) spoke to the students about demographics of the homeless population in Madison and circumstances that often lead to homelessness. After this, a variety of  professionals and Wisconsin faculty members presented to the students on related topics such as affordable housing development and lending (mortgage rates and loan-to-cost ration to name a few). Mayor Paul Soglin joined the classroom to discuss the political landscape of homelessness policy and incentives offered to developers.
With some useful background knowledge under the belts, the students were next tasked with interviewing individuals who are currently homeless, homeless advocates, city and country employees, health care and service providers, academic researchers, lawyers, politicians, landlords and real estate developers. This helped students deepen their understanding not only the basis of the problem, but also how real people are coping with their situations and how others in the community are reacting to homelessness in their community. Through these interviews, the students discovered that Madison has a very low vacancy rate — around 2%. A healthy housing market would have a vacancy rate of 5%. On top of this statistic, a particularly vulnerable population (along with domestic abuse victims, people with previous convictions, and poor credit history) are individuals with mental illnesses.
Collecting these perspectives helped the students see into the heart of the problem in Madison in order to make a strategic plan to move forward with the project.   A key goal of the project was to help inform future policy decisions by providing insights into community concerns, the experiences of homelessness services providers, and the recommendations of real estate and housing professionals.
The final piece of the semester-long project for the students came in the form of a visual development report. Professor Luque encouraged the students to find creative ways to tell the story of the Madison homeless problem not only through words, but unique photographs and infographics, as well.
Each report highlighted relevant information required to hit the ground running, including sites under consideration, equity, debt, tax credits, scoring area and the city's subsidies and grants, to name a few. Some students even took their projects one step further while creating a realistic Spatial Feasibility Analysis proposal through Excel — a skill that will undoubtedly help these students in their future careers.
When they completed the project, the students presented their findings to the class. But the experience didn't stop there for all of Luque's students. Some of them have even started volunteering at Porchlight, and all have transformed how they consider homelessness in Madison and how to confront problems like this one in the future.
Courses like this — and professors like Luque — are precisely why Wisconsin Real Estate Program has a long tradition of excellence in real estate education.
The Big Event and the Future
Along with classroom component of the Urban Economics course, Luque also designed and presented a unique event — the 
Big Event on Housing Affordability and Homelessness in Madison
, which was funded by the 
Innovation Fund at the WSB
.  Luque's student groups with the strongest in-class presentations for their "Homelessness and Housing Affordability Project" also presented their findings at the event. This was an excellent opportunity to give them more exposure to pitching ideas, while also allowing potential developers to hear what they discovered throughout the semester.
The event began with some important statistics:  there are more than 3,000 homeless individuals in the Madison area, 33% of which are children. Homeownership is currently at a 20-year low and renters are obviously struggling. Luque sees this not only as an unfortunate percentage, but also as a way to enlighten his students and those around the community of ways to solve the problem in innovative ways -- a perfect example of the Wisconsin Idea in action.
"People with the right skills can have a very big impact by adding hundreds of (housing) units every year," Luque told 
The Capital Times
. "It's a good way to give back to society."
Luque's event drew in over 300 members from the community, faculty and alumni, as well as students at the University of Wisconsin Business School to a panel discussion of the interworking problems of homelessness and affordable housing in the region. His hope was to help developers alleviate this problem while still meeting almost every businessman's underlying goal — making a profit.
Other authorities on homelessness spoke at the Big Event, including Revel Sims, an assistant professor of urban and regional planning at the University of Wisconsin, who talked to the group about evictions in Madison.  Real Estate Lecturer and co-founder of Development LLC, 
Robert Schwarz
, and Mirus Partners President 
Christopher Jaye
 collaborated to explain the first steps in becoming an affordable housing developer.
The final set of speakers at the Big Event were 
Real Estate MBA students
 Jocelyn Friedman, Joe Minor, Jose Nevarez, and Jessie Wright. The group proposed a 3-story, 103-unit mixed use development with first floor retail located on South Park Street in Madison. Their project, "Park Wingra Apartments," would be intended to serve low-income veterans and low-income families. The project was well-received by the audience and panelists and included both site linkages and a rendering of the proposed development.
The Big Event was a great success and has shed light on how affordable housing can create tangible benefits for cities, their residents, and developers.  Innovative applied learning opportunities like this one continue to be one of the hallmarks of the Wisconsin Real Estate Program's curriculum. 
About the Wisconsin Real Estate Program
With a real estate program ranked consistently as the top public program in the country by U.S. News and World Report, Department of Real Estate and the 

James A. Graaskamp Center for Real Estate

 at the Wisconsin School of Business is a world-renowned program that prides itself on academic excellence, a commitment to ethics, and real-world experiences for its students. Established in 1920, Wisconsin founded one of the first real estate programs in the nation. Today, it proudly educates students from all walks of life with its nationally recognized 

undergraduate

, 

MBA

, and 

Global Real Estate Master

 programs.  
Publication Date
May 4, 2017
Citation Information
Molly Sequin. "Professor Jaime Luque Creates Shining Example of Innovation at the Wisconsin School of Business"
Wisconsin School of Business News
(2017)
Available at: http://works.bepress.com/luque/31/
Creative Commons License
This work is licensed under a Creative Commons CC_BY-NC-ND International License.