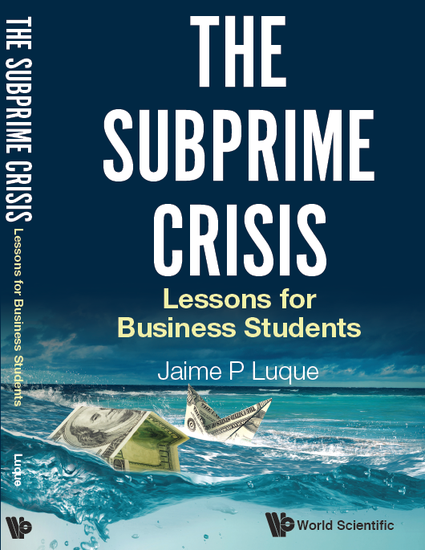 Book
The Subprime Crisis: Lessons for Business Students (World Scientific Publishing)
(2017)
Abstract
The first major global economic contraction of the 21st century, or the "Great Recession", as it is more commonly known, began in December of 2007, and would prove to be one of the most catastrophic economic events in postmodern history. The bursting of the American housing bubble and the subprime mortgage crisis that followed are widely attributed as being the primary causes for this economic downturn.
The content of this book presents an in-depth analysis of several of the leading causes of the subprime crisis, as well as the subsequent measures that were used to contain a widespread economic recession. It is the aim of this book to provide adequate information and tools for readers to gain insight on how we can prevent the same mistakes from happening again. This analysis also explores an interesting question when considering public policy; was the economic disaster, that ensued, caused by overzealous consumers who borrowed more than they could afford, or was it caused by institutional entities that gambled away the American economy?
Contents:
Dedication
Preface
List of Tables
List of Figures
Overview of the Subprime Mortgage Crisis:
Understanding the Subprime Crisis
What Caused the Subprime Crisis?
Mortgage Credit Expansion
Household Consumption
Judicial Requirements for Foreclosures
Political Economy During the Bust
REITs
US Homeownership Rates
Foreclosures:
Estimates and Sources of Price Declines
Credit Experiences
Forced Sales and House Prices
Contagion in Housing Markets
Supply or Disamentity?
Post Foreclosure Experiences
Foreclosure Externalities
Government Intervention:
The Role of Affordable Housing Goals
The Fed's MBS Mortgage Program
Supply of Mortgage Credit
The Home Affordable Modification Program
House Prices and Lending Standards:
Home Equity Based Borrowing
Housing Prices During the Boom
Lending Standards
Lax Screening
Readership:
 Undergraduate students in business schools. MBA students could also utilize this text as an introductory reading material to the history of the Great Recession.
Publication Date
April, 2017
Publisher
World Scientific Publishing
Citation Information
Jaime Luque. The Subprime Crisis: Lessons for Business Students (World Scientific Publishing). (2017)
Available at: http://works.bepress.com/luque/26/
Creative Commons license
This work is licensed under a Creative Commons CC_BY-NC-ND International License.