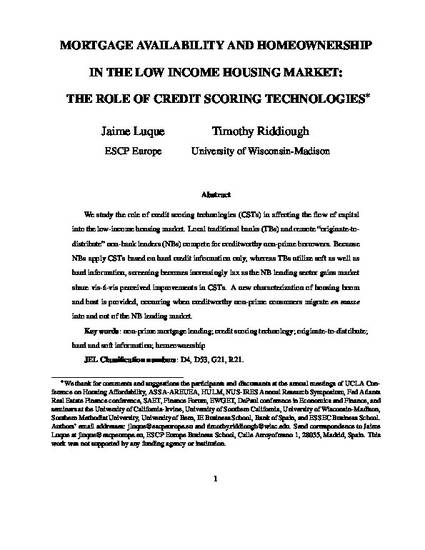 Unpublished Paper
Mortgage Availability and Homeownership in the Low Income Housing Market: The Role of Credit Scoring Technologies
. (2018)
Abstract
We study the role of credit scoring technologies (CSTs) in affecting the flow of capital into the low-income housing market. Local traditional banks (TBs) and remote "originate-to-distribute" non-bank lenders (NBs) compete for creditworthy non-prime borrowers. Because NBs apply CSTs based on hard credit information only, whereas TBs utilize soft as well as hard information, screening becomes increasingly lax as the NB lending sector gains market share vis-á-vis perceived improvements in CSTs. A new characterization of housing boom and bust is provided, occurring when creditworthy non-prime consumers migrate en masse into and out of the NB lending market.
Publication Date
September, 2018
Citation Information
Jaime Luque and Timothy Riddiough. "Mortgage Availability and Homeownership in the Low Income Housing Market: The Role of Credit Scoring Technologies"
.
(2018)
Available at: http://works.bepress.com/luque/18/
Creative Commons License
This work is licensed under a Creative Commons CC_BY-NC-ND International License.