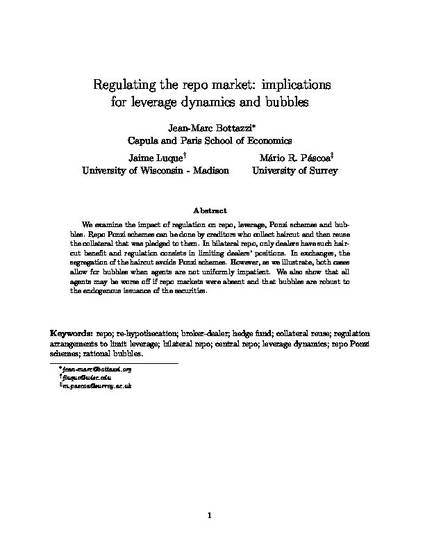 Unpublished Paper
Leverage, Security Bubbles and the Regulation of Repo Markets
(2018)
Abstract
We examine the impact of regulation on repo, leverage, Ponzi schemes and bubbles. Repo Ponzi schemes can be done by creditors who collect haircut and then reuse the collateral that was pledged to them. In bilateral repo, only dealers have such haircut benet and regulation consists in limiting dealers' positions. In exchanges, the segregation of the haircut avoids Ponzi schemes. However, as we illustrate, both cases allow for bubbles when agents are not uniformly impatient. We also show that all agents may be worse off if repo markets were absent and that bubbles are robust to the endogenous issuance of the securities.
Keywords
regulation on repo,
leverage,
Ponzi schemes,
bubbles
Publication Date
September, 2018
Citation Information
Jean-Marc Bottazzi, Jaime Luque and Mario Pascoa. "Leverage, Security Bubbles and the Regulation of Repo Markets" (2018)
Available at: http://works.bepress.com/luque/16/
Creative Commons License
This work is licensed under a Creative Commons CC_BY-NC-ND International License.