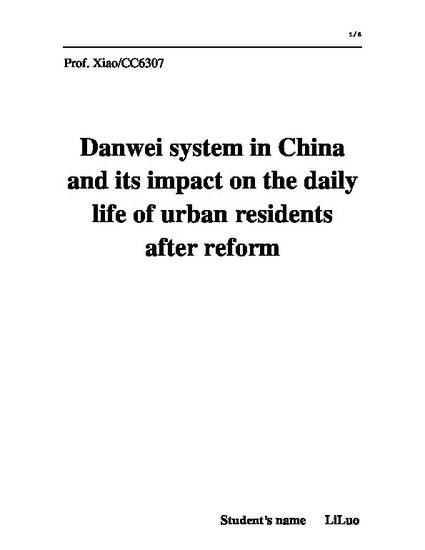 Article
Danwei system in China and its impact on the daily life of urban residents after reform
NTU (2014)
Abstract
Danwei system is a very unique phenomenon in China's urban areas.There is no doubt that set up after the establishment of new China, danwei exerted its social function strongly. It is not only being the tool for national integration, but easing the pressure of unemployment and providing social welfare as well. However, there were few researches on Chinese danwei system. People lived and worked in danwei and took the system as granted. With the penetration of reform, the traditional structure of danwei has been profoundly changed, so do the political and social functions,Meanwhile, increasing number of scholars began to realize that danwei system is closely connected to the urban studies in contemporary China in terms of its evolvement on social, economic and spatial phenomenon. Researches on China's danwei on urban studies surged during the past two decades.
Publication Date
Spring April 4, 2014
Citation Information
Luo Li. "Danwei system in China and its impact on the daily life of urban residents after reform"
NTU
(2014)
Available at: http://works.bepress.com/luo_li/2/