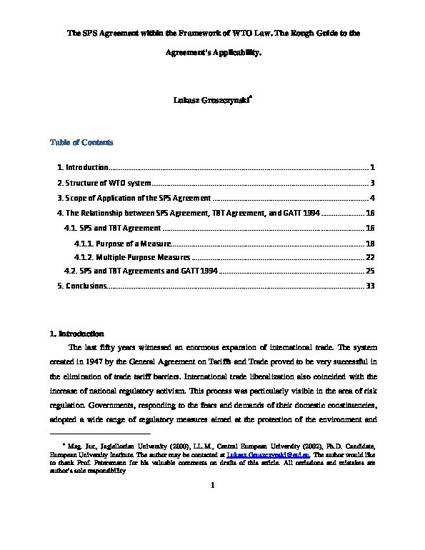 Article
The SPS Agreement within the Framework of WTO Law. The Rough Guide to the Agreement's Applicability
The ICFAI University Journal of International Business Law (2008)
Abstract
This article analyzes the problem of applicability of the SPS Agreement and its relationship with the TBT Agreement and GATT 1994. In this context, special attention is given to the panel report in EC – Biotech Products. The reason for such an approach is twofold. First, it was the first panel which comprehensively analyzed the conditions of applicability of the SPS Agreement, and second, some parts of its analysis are disappointing and not well reasoned. This article recognizes that the conditions of applicability of the SPS Agreement were conceptualized by the case law very broadly. The author, while accepting parts of the criticism which was provoked by this broad interpretation, also finds some concerns to be premature. At the same time, the article highlights the number of other deficiencies of the case law, e.g. lack of consistency in the use of interpretative tools and over-textual interpretation. With regard to the position of the SPS Agreement within the WTO system, the article notes that despite the mutually exclusive relationship between the SPS and TBT Agreements, it is not always easy to establish which of these two should apply. Two types of potentially problematic measures are discussed, namely multi-purpose measures and measures, which on their face appear to be non-SPS technical regulations, but in fact are adopted due to SPS concerns. With respect to the second category, the article claims that a WTO panel is authorized to determine the 'true' nature of a measure and does not need to rely on the national qualification of that measure. As far as the SPS Agreement and GATT 1994 are concerned, the article attempts to demonstrate that the concept of lex specialis has a rather limited utility. As an alternative, it proposes the cumulative approach to application of the agreement, combined with the rebuttable presumption of GATT 1994 consistency.
Keywords
SPS Agreement,
WTO,
TBT Agreement,
GATT 1994
Publication Date
October, 2008
Citation Information
Lukasz A Gruszczynski. "The SPS Agreement within the Framework of WTO Law. The Rough Guide to the Agreement's Applicability"
The ICFAI University Journal of International Business Law
Vol. 7 Iss. 4 (2008)
Available at: http://works.bepress.com/lukasz_gruszczynski/5/