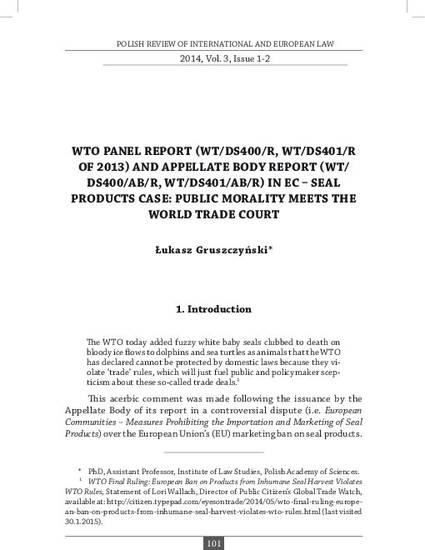 Article
EC – Seal Products Case. Public Morality Meets the World Trade Court
Polish Review of International and European Law3 (2014)
Abstract
The comment analyses the Appellate Body report in the controversial dispute over the European marketing ban on seal products (European Communities – Measures Prohibiting the Importation and Marketing of Seal Products). In this context, it particularly looks into the public moral exception provided by Art. XX of the General Agreement Tariffs and Trade and critically assesses the interpretative approach taken by the Appellate Body. This analysis subsequently forms a basis for ascertaining the extent of regulatory freedom enjoyed by WTO Members under this clause.
Keywords
Seals,
Appellate Body,
WTO,
public morality,
international trade,
EU,
World Trade Organization
Citation Information
Lukasz A Gruszczynski. "EC – Seal Products Case. Public Morality Meets the World Trade Court"
Polish Review of International and European Law3
Vol. 3 Iss. 1-2 (2014) p. 101 - 119
Available at: http://works.bepress.com/lukasz_gruszczynski/21/