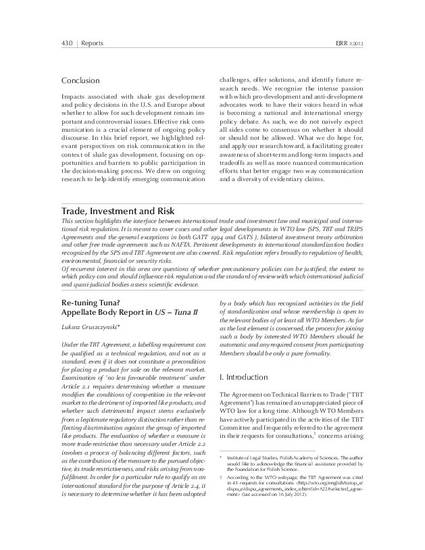 Article
Re-Tuning Tuna? Appellate Body Report in US – Tuna II
European Journal of Risk Regulation (2012)
Abstract
Under the TBT Agreement, a labelling requirement can be qualified as a technical regulation, and not as a standard, even if it does not constitute a precondition for placing a product for sale on the relevant market. Examination of "no less favourable treatment" under Article 2.1 requires determining whether a measure modifies the conditions of competition in the relevant market to the detriment of imported like products, and whether such detrimental impact stems exclusively from a legitimate regulatory distinction rather than reflecting discrimination against the group of imported like products. The evaluation of whether a measure is more trade-restrictive than necessary under Article 2.2 involves a process of balancing different factors, such as the contribution of the measure to the pursued objective, its trade restrictiveness, and risks arising from nonfulfilment. In order for a particular rule to qualify as an international standard for the purpose of Article 2.4, it is necessary to determine whether it has been adopted by a body which has recognized activities in the field of standardization and whose membership is open to the relevant bodies of at least all WTO Members. As far as the last element is concerned, the process for joining such a body by interested WTO Members should be automatic and any required consent from participating Members should be only a pure formality.
Keywords
TBT Agreement,
Tuna,
WTO,
GATT,
like products,
dolphins
Publication Date
September 3, 2012
Citation Information
Lukasz A Gruszczynski. "Re-Tuning Tuna? Appellate Body Report in US – Tuna II"
European Journal of Risk Regulation
Vol. 3 (2012)
Available at: http://works.bepress.com/lukasz_gruszczynski/19/