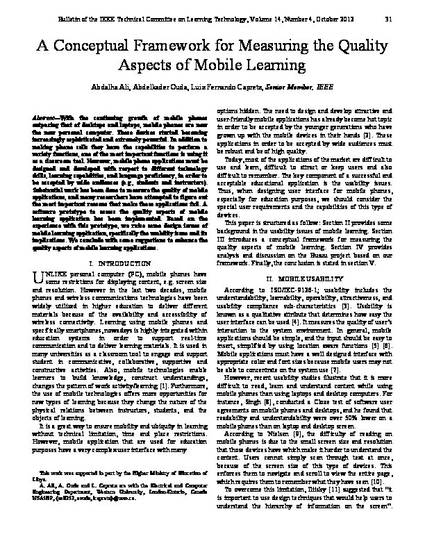 Article
A Conceptual Framework for Measuring the Quality Aspect of Mobile Learning
Bulletin of the IEEE Technical Committee on Learning Technologies
Publication Date
10-1-2012
Abstract
With the continuing growth of mobile phones outpacing that of desktops and laptops, mobile phones are the new personal computer. These devices started becoming increasingly sophisticated and extremely powerful. In addition to making phone calls it have the capabilities to perform variety functions, one of the most important functions using it as a classroom tool. However, mobile phone applications must be designed and developed with respect to different technologies skills, learning capabilities and language proficiency in order to be accepted by wide audiences (e.g., students, instructors). However, there is much work that has been done to measure the quality of mobile applications, and there are many researchers attempting to figure out the most important reasons that make those applications fail. In this paper, we discuss the design issues of mobile learning specifically the usability and its sub- characteristics, by considering a case study based on our proposed framework. It concludes by introducing and discussing the results that were obtained, and also some suggestions are given to enhance the quality aspects of mobile learning.
Citation Information
Luiz Fernando Capretz, Abdalha Ali and Abdelkader Ouda. "A Conceptual Framework for Measuring the Quality Aspect of Mobile Learning"
Bulletin of the IEEE Technical Committee on Learning Technologies
Vol. 14 Iss. 4 (2012) p. 31 - 34
Available at: http://works.bepress.com/luiz_fernando_capretz/24/