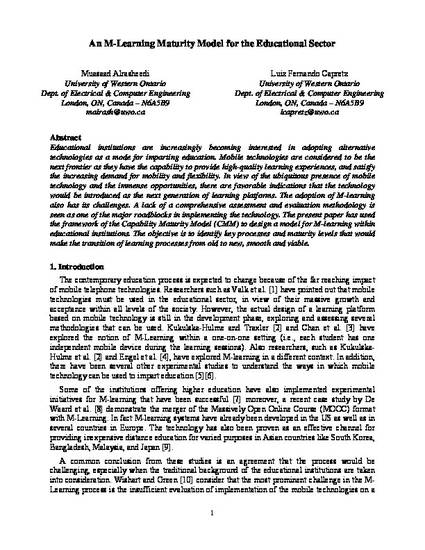 Article
An M-Learning Maturity Model for the Educational Sector
6th Conference of MIT Learning International Networks Consortium (MIT LINC)
Document Type
Conference Proceeding
Publication Date
6-1-2013
Abstract
Educational institutions are increasingly becoming interested in adopting alternative technologies as a mode for imparting education. Mobile technologies are considered to be the next frontier as they have the capability to provide high-quality learning experiences, and satisfy the increasing demand for mobility and flexibility. In view of the ubiquitous presence of mobile technology and the immense opportunities, there are favorable indications that the technology would be introduced as the next generation of learning platforms. The adoption of M-learning also has its challenges. A lack of a comprehensive assessment and evaluation methodology is seen as one of the major roadblocks in implementing the technology. The present paper has used the framework of the Capability Maturity Model (CMM) to design a model for M-learning within educational institutions. The objective is to identify key processes and maturity levels that would make the transition of learning processes from old to new, smooth and viable.
Citation Information
Muasaad Alrasheedi and Luiz Fernando Capretz. "An M-Learning Maturity Model for the Educational Sector"
6th Conference of MIT Learning International Networks Consortium (MIT LINC)
(2013)
Available at: http://works.bepress.com/luiz_fernando_capretz/22/