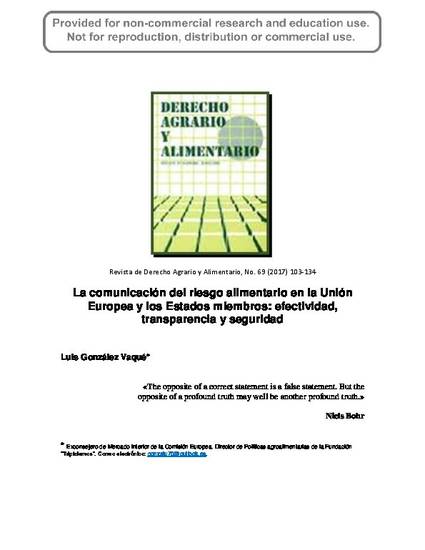 Article
La comunicación del riesgo alimentario en la Unión Europea y los Estados miembros: efectividad, transparencia y seguridad
Revista de Derecho Agrario y Alimentario (2017)
Abstract
Abstract
Clear and effective information and communication with the public and fellow EU governments is an essential part of a food crisis response.
In the European Union we seek to improve this by:
·
developing EU-wide strategies
·
better integrating communicators into the crisis-management process
·
strengthening their cooperation with decision-makers and risk managers.
Keywords: food crisis, risk assessment, risk communication, European Union
Resumen
La claridad y la eficacia de la información y la comunicación con el público y los gobiernos de la UE constituyen una parte fundamental de la respuesta a las crisis alimentarias.
En la Unión Europea se trata de mejorarlas mediante:
·
el desarrollo de estrategias europeas
·
una mayor integración de los responsables de la comunicación en el proceso de gestión de las crisis
·
la consolidación de su cooperación con los responsables de las decisiones y los gestores de riesgos.
Palabras clave: crisis alimentarias, evaluación de riesgos, comunicación de los riesgos, Unión Europea
Keywords
Food crisis,
Food Law,
Food Safety,
Risk assessment,
Risk communication,
European Union
Publication Date
March 3, 2017
Citation Information
Luis González Vaqué. "La comunicación del riesgo alimentario en la Unión Europea y los Estados miembros: efectividad, transparencia y seguridad"
Revista de Derecho Agrario y Alimentario
Iss. 69 (2017) p. 103 - 134 ISSN: 0213-2915
Available at: http://works.bepress.com/luis_gonzalez_vaque/225/
Creative Commons license
This work is licensed under a Creative Commons CC_BY-NC-ND International License.