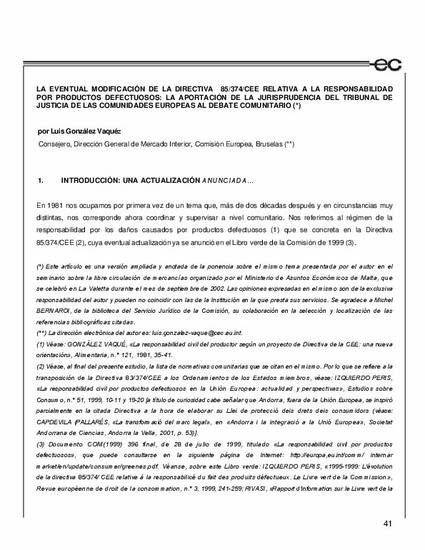 Article
"La eventual modificación de la Directiva 85/374/CEE relativa a la responsabilidad por productos defectuosos: la aportación de la jurisprudencia del Tribunal de Justicia de las Comunidades Europeas al debate comunitario"
Estudios sobre consumo (2003)
Abstract
Protection of the consumer requires that all producers involved in the production process should be made liable, in so far as their finished product, component part or any raw material supplied by them was defective; for the same reason, liability should extend to importers of products into the Community and to persons who present themselves as producers by affixing their name, trade mark or other distinguishing feature or who supply a product the producer of which cannot be identified.
Keywords
ECJ Directive 85/374/EEC,
Liability for defective products,
damage caused by the defectiveness of products,
libility without fault
Citation Information
Luis González Vaqué. ""La eventual modificación de la Directiva 85/374/CEE relativa a la responsabilidad por productos defectuosos: la aportación de la jurisprudencia del Tribunal de Justicia de las Comunidades Europeas al debate comunitario""
Estudios sobre consumo
Iss. No.64 (2003)
Available at: http://works.bepress.com/luis_gonzalez_vaque/128/