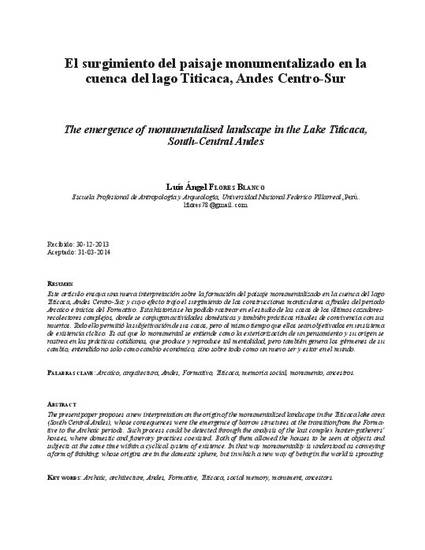 Article
El surgimiento del paisaje monumentalizado en la cuenca del lago Titicaca
Complutum (2014)
Abstract
The present paper proposes a new interpretation on the origin of the monumentalized landscape in the Titicaca lake area (South-Central Andes), whose consequences were the emergence of barrow structures at the transition from the Formative to the Archaic periods. Such process could be detected through the analysis of the last complex hunter-gatherers' houses, where domestic and funerary practices coexisted. Both of them allowed the houses to be seen at objects and subjects at the same time within a cyclical system of existence. In that way monumentality is understood as conveying a form of thinking, whose origins are in the domestic sphere, but in which a new way of being in the world is sprouting.
Citation Information
Luis A. Flores. "El surgimiento del paisaje monumentalizado en la cuenca del lago Titicaca"
Complutum
Vol. 25 Iss. 1 (2014)
Available at: http://works.bepress.com/luis_flores/1/