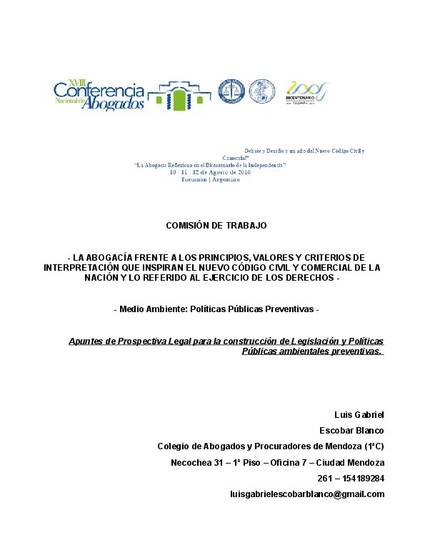 Dissertation
Apuntes de Prospectiva Legal para la construcción de Legislación y Políticas Públicas ambientales preventivas..pdf
(2016)
Abstract
El hecho de titular el trabajo ya implica muchas veces una definición. ¿Las políticas públicas deben ceñirse al marco de la legislación existente? ¿La legislación debe ser reformada -en forma más o menos radical- para dar libertad a las políticas públicas? Si es un poco de cada cosa ¿Cuál es la vara que rige el cambio para estos parámetros legales? Si de prevenir se trata ¿Quien establece los parámetros técnicos? ¿Cómo se instrumentan los parámetros administrativos? ¿Cuanto es el poder para influir o tomar la decisión final que tiene el pueblo y la clase dirigente? Es la rosa de los vientos para navegar en el "mar encrespado y sañudo" 1 de las políticas  ambientales preventivas. Diseñar una política pública ambiental preventiva requiere elegir los técnicos más capaces, administrar y gestionar con tesón cotidiano y sólo la burocracia imprescindible. Y una pizca de legislación acertada que promueva la institucionalidad de la política decidida, afirmándola como política de Estado, reduciendo los puntos conflictivos e implementando principios y reglas claras. Este trabajo se dirige a establecer pautas conforme el arte prospectivo, para facilitar la construcción y concreción de una legislación que sustente una política ambiental preventiva, con rango de política de Estado. Es decir, demostrar la viabilidad de la Prospectiva para la Legislación, con un nuevo rol del operador jurídico preparado para identificar intereses y actores, sus interacciones, desafíos y peligros, y determinar las reglas para conductas que institucionalicen las políticas ambientales preventivas.
The fact of owning the work often implies a definition. Should public policies follow the framework of existing legislation? Should legislation - more or less radically - be reformed to take liberty to public policies? If it's a bit of everything, what are the ways to change legal parameters? If prevention is treated Who sets the technical parameters? How are administrative parameters implemented? What is the power to make the final decision of the people and the ruling class? It is the rose of the winds to navigate in the "rough sea and the troubled" of preventive environmental policies. Designing a preventive public policy requires choosing the most capable technicians,  administrate and manage with daily hardness and only the indispensable bureaucracy. And a bit of the right legislation that promotes the institutionality of the decided policy, affirming the State policy, reducing the conflict points and applying clear principles and rules. This work is aimed at establishing guidelines according to the prospective art, to facilitate the construction and concretion of legislation that underpins a preventive environmental policy, with rank of State policy. That is, to demonstrate the feasibility of Foresight for Legislation, with a new role of the legal operator prepared to identify interests and actors, their interactions, challenges and dangers, and determine the rules for the institutionalize preventive environmental policies. 
Keywords
Foresight legislation,
preventive environmental policies.
Publication Date
Summer August 1, 2016
Citation Information
Luis Gabriel Escobar Blanco. "Apuntes de Prospectiva Legal para la construcción de Legislación y Políticas Públicas ambientales preventivas..pdf" (2016)
Available at: http://works.bepress.com/luis_escobarblanco/22/
Creative Commons license
This work is licensed under a Creative Commons CC_BY-NC International License.