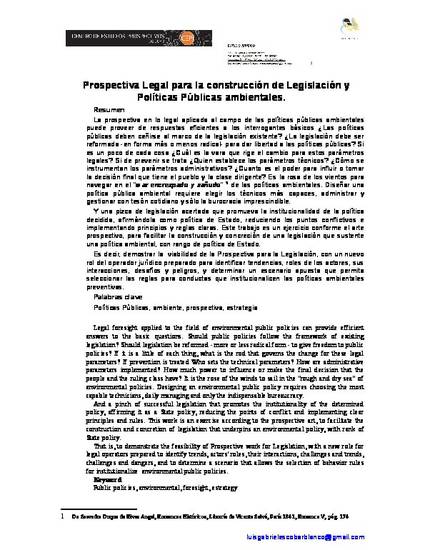 Dissertation
Prospectiva legal y politicas publicas ambientales.pdf
(2016)
Abstract
Resumen La prospectiva en lo legal aplicada al campo de las políticas públicas ambientales puede proveer de respuestas eficientes a los interrogantes básicos ¿Las políticas públicas deben ceñirse al marco de la legislación existente? ¿La legislación debe ser reformada -en forma más o menos radical- para dar libertad a las políticas públicas? Si es un poco de cada cosa ¿Cuál es la vara que rige el cambio para estos parámetros legales? Si de prevenir se trata ¿Quien establece los parámetros técnicos? ¿Cómo se instrumentan los parámetros administrativos? ¿Cuanto es el poder para influir o tomar la decisión final que tiene el pueblo y la clase dirigente? Es la rosa de los vientos para navegar en el "mar encrespado y sañudo" 1 de las políticas ambientales. Diseñar una política pública ambiental requiere elegir los técnicos más capaces, administrar y gestionar con tesón cotidiano y sólo la burocracia imprescindible. Y una pizca de legislación acertada que promueva la institucionalidad de la política decidida, afirmándola como política de Estado, reduciendo los puntos conflictivos e implementando principios y reglas claras. Este trabajo es un ejercicio conforme el arte prospectivo, para facilitar la construcción y concreción de una legislación que sustente una política ambiental, con rango de política de Estado. Es decir, demostrar la  viabilidad de la Prospectiva para la Legislación, con un nuevo rol del operador jurídico preparado para identificar tendencias, roles de los actores, sus interacciones, desafíos y peligros, y determinar un escenario apuesta que permita seleccionar las reglas para conductas que institucionalicen las políticas ambientales preventivas. 
Legal foresight applied to the field of environmental public policies can provide efficient answers to the basic questions. Should public policies follow the framework of existing legislation? Should legislation be reformed - more or less radical form - to give freedom to public policies? If it is a little of each thing, what is the rod that governs the change for these legal parameters? If prevention is treated Who sets the technical parameters? How are administrative parameters implemented? How much power to influence or make the final decision that the people and the ruling class have? It is the rose of the winds to sail in the "rough and dry sea" of environmental policies. Designing an environmental public policy requires choosing the most capable technicians, daily managing and only the indispensable bureaucracy. And a pinch of successful legislation that promotes the institutionality of the determined policy, affirming it as a State policy, reducing the points of conflict and implementing clear principles and rules. This work is an exercise according to the prospective art, to facilitate the construction and concretion of legislation that underpins an environmental policy, with rank of State policy. That is, to demonstrate the feasibility of Prospective work for Legislation, with a new role for legal operators prepared to identify trends, actors' roles, their interactions, challenges and trends, challenges and dangers, and to determine a scenario that allows the selection of behavior rules for institutionalize  environmental public policies. 
Keywords
Public policies,
environmental,
foresight,
estrategy
Publication Date
Fall November 15, 2016
Citation Information
Luis Gabriel Escobar Blanco. "Prospectiva legal y politicas publicas ambientales.pdf" (2016)
Available at: http://works.bepress.com/luis_escobarblanco/21/
Creative Commons license
This work is licensed under a Creative Commons CC_BY-NC International License.