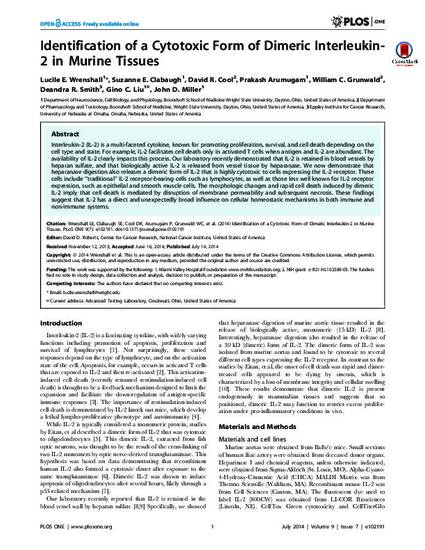 Article
Identification of a Cytotoxic Form of Dimeric Interleukin-2 in Murine Tissues
PLOS ONE
Publication Date
7-14-2014
Abstract
Interleukin-2 (IL-2) is a multi-faceted cytokine, known for promoting proliferation, survival, and cell death depending on the cell type and state. For example, IL-2 facilitates cell death only in activated T cells when antigen and IL-2 are abundant. The availability of IL-2 clearly impacts this process. Our laboratory recently demonstrated that IL-2 is retained in blood vessels by heparan sulfate, and that biologically active IL-2 is released from vessel tissue by heparanase. We now demonstrate that heparanase digestion also releases a dimeric form of IL-2 that is highly cytotoxic to cells expressing the IL-2 receptor. These cells include "traditional" IL-2 receptor-bearing cells such as lymphocytes, as well as those less well known for IL-2 receptor expression, such as epithelial and smooth muscle cells. The morphologic changes and rapid cell death induced by dimeric IL-2 imply that cell death is mediated by disruption of membrane permeability and subsequent necrosis. These findings suggest that IL-2 has a direct and unexpectedly broad influence on cellular homeostatic mechanisms in both immune and non-immune systems.
DOI
10.1371/journal.pone.0102191
Citation Information
Lucile E. Wrenshall, Suzanne E. Clabaugh, David R. Cool, Prakash Arumugam, et al.. "Identification of a Cytotoxic Form of Dimeric Interleukin-2 in Murine Tissues"
PLOS ONE
Vol. 9 Iss. 7 (2014) ISSN: 19326203
Available at: http://works.bepress.com/lucile_wrenshall/71/