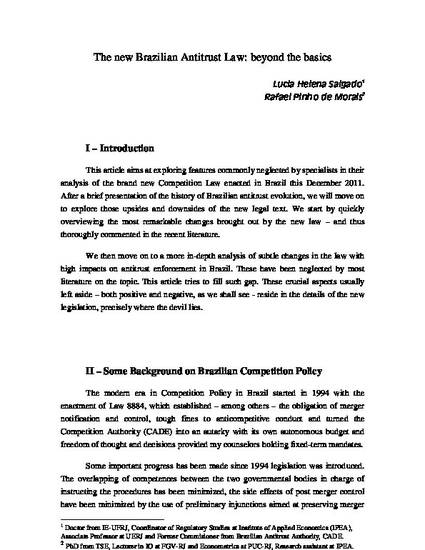 Article
The new Brazilian Antitrust Law: beyond the basics
Boletín LatinoAmericano de Competencia (2012)
Abstract
This article aims at exploring features commonly neglected by specialists in their analysis of the brand new Competition Law enacted in Brazil this December 2011. After a brief presentation of the history of Brazilian antitrust evolution, we will move on to explore those upsides and downsides of the new legal text. We start by quickly overviewing the most remarkable changes brought out by the new law – and thus thoroughly commented in the recent literature.
Keywords
antitrust,
competition law,
law and economics.
Publication Date
Fall March, 2012
Citation Information
Lucia Helena Salgado and Rafael Morais. "The new Brazilian Antitrust Law: beyond the basics"
Boletín LatinoAmericano de Competencia
Iss. 31 (2012)
Available at: http://works.bepress.com/lucia_salgado/19/