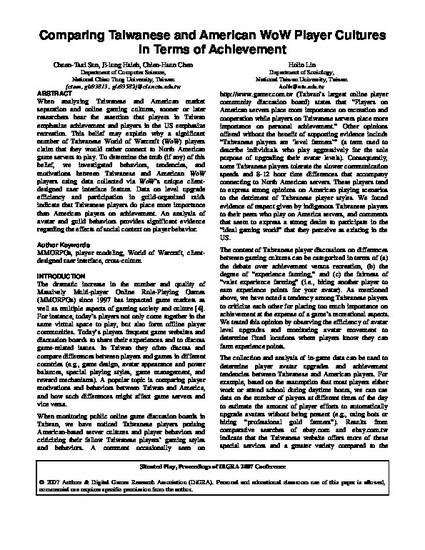 Presentation
Comparing Taiwanese and American WoW Player Cultures in Terms of Achievement
Digital games Research Conference (2007)
Abstract
When analyzing Taiwanese and American market separation and online gaming cultures, sooner or later researchers hear the assertion that players in Taiwan emphasize achievement and players in the US emphasize recreation. This belief may explain why a significant number of Taiwanese World of Warcraft (WoW) players claim that they would rather connect to North American game servers to play. To determine the truth (if any) of this belief, we investigated behaviors, tendencies, and motivations between Taiwanese and American WoW players using data collected via WoW's unique clientdesigned user interface feature. Data on level upgrade efficiency and participation in guild-organized raids indicate that Taiwanese players do place more importance than American players on achievement. An analysis of avatar and guild behaviors provides significant evidence regarding the effects of social context on player behavior.
Keywords
MMORPGs,
player modeling,
World of Warcraft,
clientdesigned user interface,
cross-culture.
Publication Date
September, 2007
Citation Information
C. T. Sun, Chien Hsun Chen, J. L. Hsieh and H. Lin. "Comparing Taiwanese and American WoW Player Cultures in Terms of Achievement"
Digital games Research Conference
(2007)
Available at: http://works.bepress.com/lucemia/4/