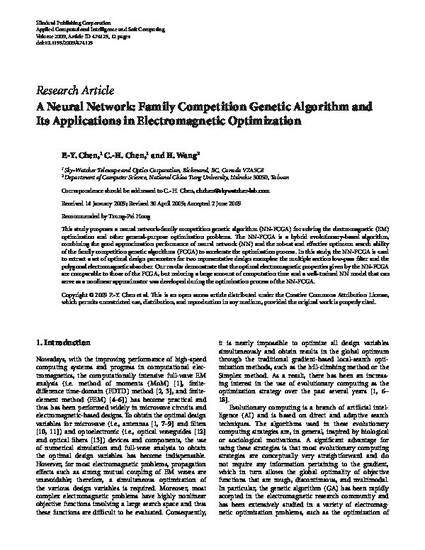 Article
A Neural Network: Family Competition Genetic Algorithm and Its Application in Electromagnetic Optimization
Applied Computational Intelligence and Soft Computing (2009)
Abstract
This study proposes a neural network-family competition genetic algorithm (NN-FCGA) for solving the electromagnetic (EM) optimization and other general-purpose optimization problems. The NN-FCGA is a hybrid evolutionary-based algorithm, combining the good approximation performance of neural network (NN) and the robust and effective optimum search ability of the family competition genetic algorithms (FCGA) to accelerate the optimization process. In this study, the NN-FCGA is used to extract a set of optimal design parameters for two representative design examples: the multiple section low-pass filter and the polygonal electromagnetic absorber. Our results demonstrate that the optimal electromagnetic properties given by the NN-FCGA are comparable to those of the FCGA, but reducing a large amount of computation time and a well-trained NN model that can serve as a nonlinear approximator was developed during the optimization process of the NN-FCGA.
Keywords
Algorithm,
Neural Network,
Genetic Algorithm,
Optimization,
Electromagnetic
Citation Information
Chien Hsun Chen, P. Y. Chen and H. Weng. "A Neural Network: Family Competition Genetic Algorithm and Its Application in Electromagnetic Optimization"
Applied Computational Intelligence and Soft Computing
Vol. 2009 (2009)
Available at: http://works.bepress.com/lucemia/19/