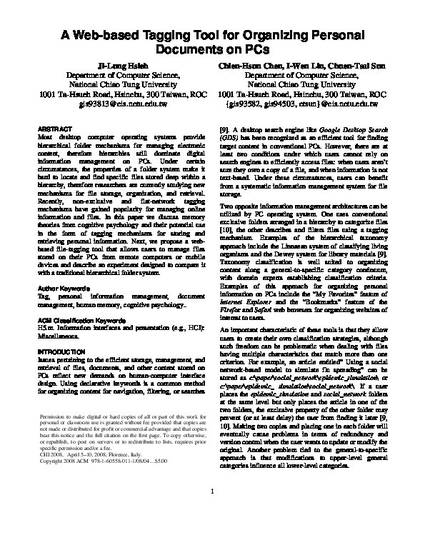 Presentation
A Web-based Tagging Tool for Organizing Personal Documents on PCs
International Conference of Computer-Human Interaction 2008 (CHI2008) (2008)
Abstract
Most desktop computer operating systems provide hierarchical folder mechanisms for managing electronic content, therefore hierarchies still dominate digital information management on PCs. Under certain circumstances, the properties of a folder system make it hard to locate and find specific files stored deep within a hierarchy, therefore researchers are currently studying new mechanisms for file storage, organization, and retrieval. Recently, non-exclusive and flat-network tagging mechanisms have gained popularity for managing online information and files. In this paper we discuss memory theories from cognitive psychology and their potential use in the form of tagging mechanisms for storing and retrieving personal information. Next, we propose a web- based file-tagging tool that allows users to manage files stored on their PCs from remote computers or mobile devices and describe an experiment designed to compare it with a traditional hierarchical folder system.
Keywords
Tag,
personal information management,
document management,
human memory,
cognitive psychology.
Citation Information
Chien Hsun Chen, I. W. Lin, J. L. Hsieh and C. T. Sun. "A Web-based Tagging Tool for Organizing Personal Documents on PCs"
International Conference of Computer-Human Interaction 2008 (CHI2008)
(2008)
Available at: http://works.bepress.com/lucemia/18/