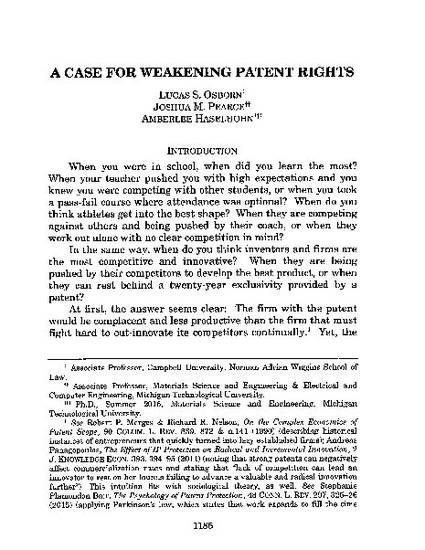 Article
A Case for Weakening Patent Rights
St. John's Law Review
Abstract
This Article contributes to the patent debate by observing that new and emerging technologies are radically altering the relative costs and benefits of the patent system. Although analysts cannot measure the patent system's numerous absolute costs and benefits, this Article demonstrates that new and emerging technologies are significantly reducing the research, development, and commercialization costs ("innovation costs") that are used by adherents to the incentive and prospect theories to justify the patent system's existence. All things being equal, if significantly, the relative need for the patent system has decreased and will continue to decrease. Thus, this Article argues that patents should be weakened significantly-by at least twenty-five to fifty percent. To support this claim, this Article takes an interdisciplinary approach out of appreciation for the fact that innovation spans many disciplines: Two of the authors are scientists with extensive expertise in three-dimensional printing, and the remaining author is a law professor who is an expert on patent law. Altogether, this Article offers a thorough catalog of new and emerging technologies and their effects, both general and specific, on innovation costs and the patent system.
Citation Information
Lucas S. Osborn, Joshua M. Pearce and Amberlee Haselhuhn. "A Case for Weakening Patent Rights"
St. John's Law Review
Vol. 89 (2015) p. 1185
Available at: http://works.bepress.com/lucas_osborn/49/