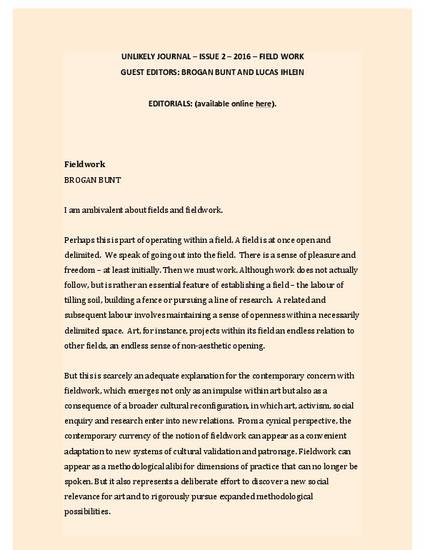 Article
Editorial: Field Work
Unlikely Journal (2016)
Abstract
Editorials by Brogan Bunt and Lucas Ihlein for UNLIKELY Journal Issue 2, 2016. Theme "Field Work".
Unlikely is a transdisciplinary journal, which opens unexpected spaces for artistic exchange and scholarly conversations across mediums, disciplines and continents. Unlikely supports the research community of practitioners, makers, and scholars working in the creative arts. This international, peer-reviewed publication presents the opportunity for artists working in practice-led research to engage in conversation with a range of arts scholars on contemporary concerns. Unlikely is an open online journal which accommodates diverse modes of scholarly and creative work.
Unlikely issue 2: "Field Work" Guest editors: Brogan Bunt and Lucas Ihlein (University of Wollongong).
Contributors: Adva Weinstein; Campbell Drake and Jock Gilbert; Marnie Badham, Kate Hill, Ted Purves, Susanne Cockrell, and Amy Spiers; Becky Nevin Berger; David Brazier and Kelda Free; Dominic Redfern; Vanessa Berry; Maria Miranda; Catherine Clover, Johanna Hällsten and Shauna Laurel Jones; Laura Fisher; Nancy Mauro Flude; Sean Lowry; Alinta Krauth; Meghan Moe Beitiks.
"Fields"... arenas for action; social discourses; professional areas of practice; knowledge disciplines. Field Trips: tours, excursions, forays. Research trips, adventures, residencies. Working in the forest, in old mining towns, in local suburbs, on farms. Artists placed in corporations, government departments, schools. Ethnographic models, educational models, activist models, scientific models. "The artist as…" Field as field. Going for a walk. Site specific work. Community as site. Placemaking. Field Work.
Contributions to this special edition were invited to address some of the following concerns: What opportunities for the creation of new knowledge are "out there, in the field"?
What new methods for artmaking are born when artists venture outside the art world - or indeed, take the artworld itself as field?
How do documentation, reportage, and writing help make field work visible and intelligible?
How do artworks define their own fields?
How does creative fieldwork relate to other traditions of research fieldwork?
How is fieldwork relevant to conceiving art practice as a form of research?
How is fieldwork formalised, mediated, communicated, aestheticised?
Keywords
creative arts,
practice based research,
contemporary arts,
field work,
non-traditional research
Citation Information
Lucas M Ihlein and Brogan Bunt. "Editorial: Field Work"
Unlikely Journal
Vol. 1 Iss. 2 (2016) ISSN: 2205-0027
Available at: http://works.bepress.com/lucas_ihlein/28/
Creative Commons license
This work is licensed under a Creative Commons CC_BY-SA International License.