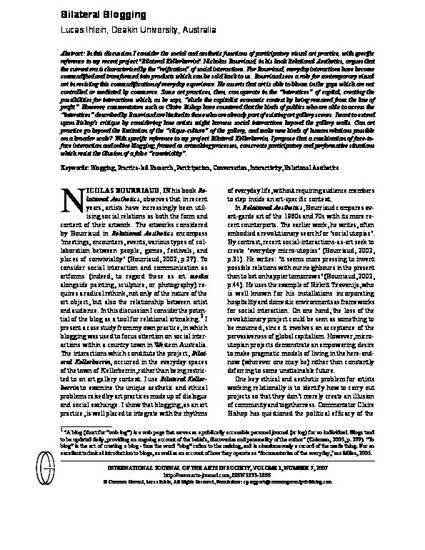 Article
Bilateral Blogging
The International Journal of the Arts in Society (2007)
Abstract
In this discussion I consider the social and aesthetic functions of participatory visual art practice, with specific reference to my recent project "Bilateral Kellerberrin". Nicholas Bourriaud, in his book Relational Aesthetics, argues that the current era is characterised by the "reification" of social interactions. For Bourriaud, everyday interactions have become commodified and transformed into products which can be sold back to us. Bourriaud sees a role for contemporary visual art in resisting this commodification of everyday experience. He asserts that art is able to bloom in the gaps which are not controlled or mediated by commerce. Some art practices, then, can operate in the "interstices" of capital, creating the possibilities for interactions which, as he says, "elude the capitalist economic context by being removed from the law of profit." However, commentators such as Claire Bishop have countered that the kinds of publics who are able to access the "interstices" described by Bourriaud are limited to those who are already part of existing art gallery scenes. I want to extend upon Bishop's critique by considering how artists might harness social interactions beyond the gallery walls. Can art practice go beyond the limitation of the "clique-culture" of the gallery, and make new kinds of human relations possible on a broader scale? With specific reference to my project Bilateral Kellerberrin, I propose that a combination of face-toface interaction and online blogging, framed as artmaking processes, can create participatory and performative situations which resist the illusion of a false "conviviality".
Citation Information
Lucas M Ihlein. "Bilateral Blogging"
The International Journal of the Arts in Society
Vol. 1 Iss. 7 (2007)
Available at: http://works.bepress.com/lucas_ihlein/21/