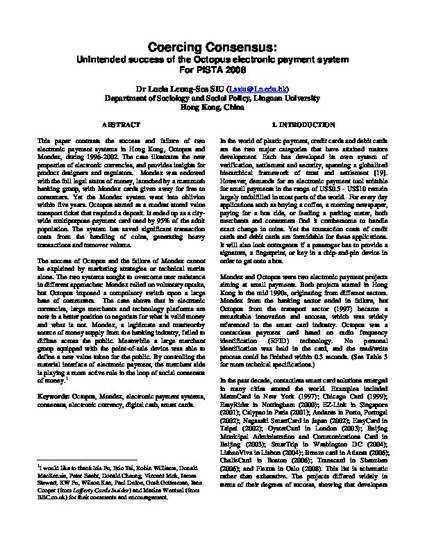 Presentation
Coercing Consensus: Unintended success of the Octopus electronic payment system
Proceedings of the 6th International Conference on Politics and Information Systems, Technologies and Applications (PISTA) (2008)
Abstract
This paper contrasts the success and failure of two electronic payment systems in Hong Kong, Octopus and Mondex, during 1996-2002. The case illustrates the new properties of electronic currencies, and provides insights for product designers and regulators. Mondex was endowed with the full legal status of money, launched by a mammoth banking group, with Mondex cards given away for free to consumers. Yet the Mondex system went into oblivion within five years. Octopus started as a modest stored value transport ticket that required a deposit. It ended up as a city-wide multipurpose payment card used by 95% of the adult population. The system has saved significant transaction costs from the handling of coins, generating heavy transactions and turnover volume.
The success of Octopus and the failure of Mondex cannot be explained by marketing strategies or technical merits alone. The two systems sought to overcome user resistance in different approaches: Mondex relied on voluntary uptake, but Octopus imposed a compulsory switch upon a large base of commuters. The case shows that in electronic currencies, large merchants and technology platforms are now in a better position to negotiate for what is valid money and what is not. Mondex, a legitimate and trustworthy source of money supply from the banking industry, failed to diffuse across the public. Meanwhile a large merchant group equipped with the point-of-sale device was able to define a new value token for the public. By controlling the material interface of electronic payment, the merchant side is playing a more active role in the loop of social consensus of money.
Keywords
Octopus,
Mondex,
electronic payment systems,
consensus,
electronic currency,
digital cash,
smart cards.
Publication Date
June 30, 2008
Citation Information
Leung-sea, Lucia SIU. "Coercing Consensus: Unintended success of the Octopus electronic payment system"
Proceedings of the 6th International Conference on Politics and Information Systems, Technologies and Applications (PISTA)
(2008)
Available at: http://works.bepress.com/lssiu/4/