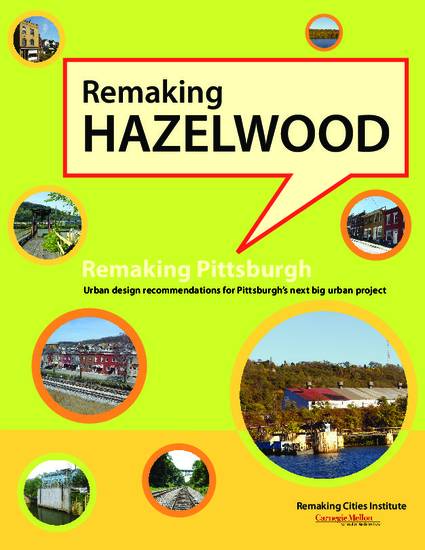 Book
Remaking Hazelwood, Remaking Pittsburgh
Remaking Hazelwood, Remaking Pittsburgh
Date of Original Version
9-1-2009
Abstract or Description
In 2006, the RCI convened and facilitated the interaction of a select group of technology visionaries to discuss the future of the Pittsburgh region. Hazelwood was their focus, a community located along the Monongahela River in Pittsburgh's southeast end and home to one of Pittsburgh's largest remaining riverfront brownfield sites, the 178-acre ALMONO site. The result of a two-year investigation by the RCI into the history, conditions and future of Hazelwood, the book outlines a comprehensive and sustainable approach to the revitalization of Hazelwood through the redevelopment of the ALMONO site. The recommendations incorporated ideas produced by students enrolled in the 2007 - 2008 Urban Laboratory: Community and Urban Design Studio.
Creative Commons
Creative Commons Attribution-Noncommercial-No Derivative Works 4.0
Citation Information
Elise Gatti and Luis Rico-Gutierrez. Remaking Hazelwood, Remaking Pittsburgh.
Remaking Hazelwood, Remaking Pittsburgh
(2009)
Available at: http://works.bepress.com/lrico/2/