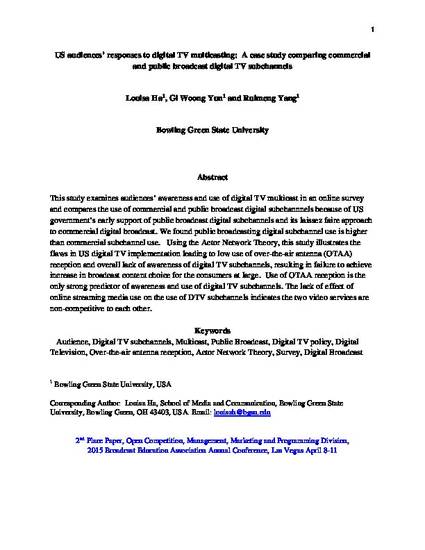 Presentation
DTVsubchannelUse.BEA.final.pdf
Broadcast Education Association Conference (2015)
Abstract
This study examines audiences' awareness and use of digital TV multicast in an online survey and compares the use of commercial and public broadcast digital subchannnels because of US government's early support of public broadcast digital subchannels and its laissez faire approach to commercial digital broadcast. We found public broadcasting digital subchannel use is higher than commercial subchannel use.   Using the Actor Network Theory, this study illustrates the flaws in US digital TV implementation leading to low use of over-the-air antenna (OTAA) reception and overall lack of awareness of digital TV subchannels, resulting in failure to achieve increase in broadcast content choice for the consumers at large.  Use of OTAA reception is the only strong predictor of awareness and use of digital TV subchannels. The lack of effect of online streaming media use on the use of DTV subchannels indicates the two video services are non-competitive to each other. 
Keywords
Audience,
Digital TV subchannels,
Multicast,
Public Broadcast,
Digital TV policy,
Digital Television,
Over-the-air antenna reception,
Actor Network Theory,
Survey,
Digital Broadcast
Citation Information
Ha, Louisa, Gi Woong Yun and Ruimeng Yang (2015). "US Audiences' Responses to Digital TV Multicasting: A Case Study Comparing Commercial and Public Broadcast Digital TV Subchannels." Paper accepted by Management, Marketing and Programming Division, Broadcast Education Association Annual Convention, Las Vegas, April 8-11.