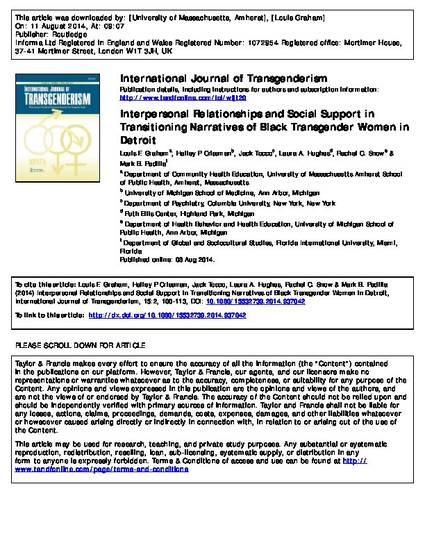 Article
Interpersonal Relationships and Social Support in Transitioning Narratives of Black Transgender Women in Detroit
International Journal of Transgenderism (2014)
Abstract
Social support has been shown to play a key role in overcoming adversities associated with marginalized identities, yet there is a dearth of information regarding the role of social networks in the gender transition process, particularly in ethnic minority transgender communities. This study uses life history narratives, and a modified grounded theory analysis, to explore the impact of interpersonal relationships on the gender transition process of Black transgender women in Detroit, Michigan. The following interpersonal interactions were significant: family reactions to self-recognition of femininity, coming out as gay prior to transgender identity disclosure, contact with an out transwoman, emotional and physical distancing from existing social networks, building relationships in transgender communities and reinitiating contact with biological family. Findings highlight familial and peer relationship dynamics that featured prominently during gender transition.
Keywords
Narrative,
Life History,
Transgender,
Social Support,
Interpersonal Relationships
Publication Date
Summer August, 2014
Citation Information
Louis F Graham, Halley P Crissman, Jack Tocco, Laura Hughes, et al.. "Interpersonal Relationships and Social Support in Transitioning Narratives of Black Transgender Women in Detroit"
International Journal of Transgenderism
Vol. 15 Iss. 2 (2014)
Available at: http://works.bepress.com/louis_graham/3/