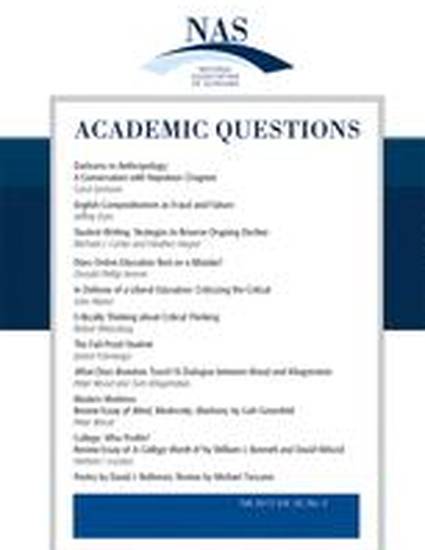 Article
toward the Enjoyment of Teaching
Academic Questions (1999)
Abstract
The advent of widespread administration of student evaluation instruments as induced faculty to engage in certain practices that are likely to ingratiate themselves to the student customers; grade inflation is a prime example. The general pressure to be perceived as warm and sympathetic for the sake of impressive evaluations can lead to rather direct attempts to manipulate students' judgments, resulting in "data" attesting to effectiveness. However, some of these efforts can distort students' expectations of instructors, resulting in student behavior that is inappropriate; pleas for special dispensation stand as prime examples. Fostering absurd behavior means that subsequent instructors must contend with those behaviors. In turn, if some of these instructors are loath to disappoint a customer, then a vicious cycle is set into motion because those behaviors will become further strengthened. The following recommendations are ways to foster student behaviors that your colleagues will appreciate no end--while allowing you to generate proof of your teaching excellence.
Publication Date
December, 1999
DOI
10.1007/s12129-999-1027-1
Citation Information
Louis Lippman. "toward the Enjoyment of Teaching"
Academic Questions
Vol. 12 Iss. 4 (1999) p. 61 - 65
Available at: http://works.bepress.com/louis-lippman/30/