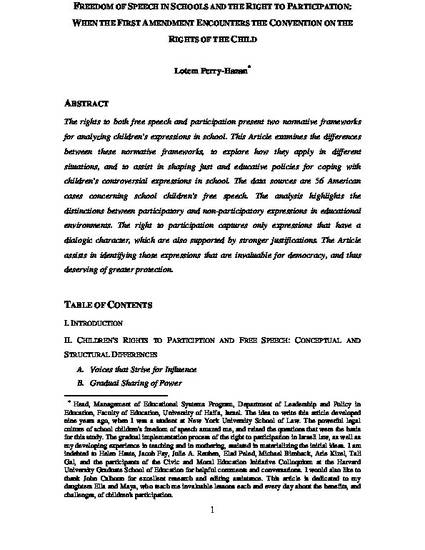 Article
Freedom of Speech in Schools and the Right to Participation: When the First Amendment Encounters the Convention on the Rights of the Child
BYU Education and Law Journal (2015)
Abstract
The rights to both free speech and participation present two normative frameworks for analyzing children's expressions in school. This Article examines the differences between these normative frameworks, to explore how they apply in different situations, and to assist in shaping just and educative policies for coping with children's controversial expressions in school. The data sources are 56 American cases concerning school children's free speech. The analysis highlights the distinctions between participatory and non-participatory expressions in educational environments. The right to participation captures only expressions that have a dialogic character, which are also supported by stronger justifications. The Article assists in identifying those expressions that are invaluable for democracy, and thus deserving of greater protection.
Citation Information
Lotem Perry. "Freedom of Speech in Schools and the Right to Participation: When the First Amendment Encounters the Convention on the Rights of the Child"
BYU Education and Law Journal
Vol. 2015 Iss. 2 (2015)
Available at: http://works.bepress.com/lotem_perry/15/