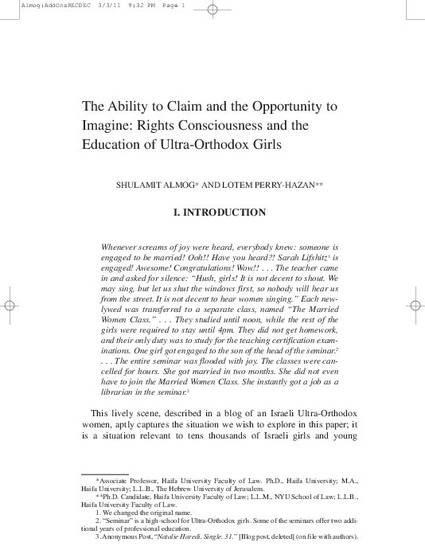 Article
THE ABILITY TO CLAIM AND THE OPPORTUNITY TO IMAGINE: RIGHTS CONSCIOUSNESS AND THE EDUCATION OF ULTRA-ORTHODOX GIRLS
Journal of Law and Education (2011)
Abstract
In this article we explore the linkage between human rights education and the development of rights consciousness - the process that enables people to define their aims, wishes and difficulties in terms of rights. We argue that the factors that develop rights consciousness - human rights knowledge and the implementation of rights - are particularly important for the development of the rights consciousness of children. The Israeli Ultra-Orthodox education for girls offers a unique opportunity to explore our contentions, since it combines wide general education with extreme messages of gender inequality. We demonstrate that their wide general education is not sufficient to empower the Ultra-Orthodox girls. The lack of human rights knowledge, together with community and gender obstacles, prevents them from reaching the domain of human rights as mature women. This deficiency of rights consciousness affects their ability to define problematic situations they encounter as violations of their human rights and to imagine a wide and open horizon, leading towards personal growth.
Keywords
Education,
Ultra-Orthodox,
Human Rights,
Rights Consciousness
Citation Information
Lotem Perry-Hazan and Shulamit Almog. "THE ABILITY TO CLAIM AND THE OPPORTUNITY TO IMAGINE: RIGHTS CONSCIOUSNESS AND THE EDUCATION OF ULTRA-ORTHODOX GIRLS"
Journal of Law and Education
Vol. 40 Iss. 2 (2011)
Available at: http://works.bepress.com/lotem_perry/1/