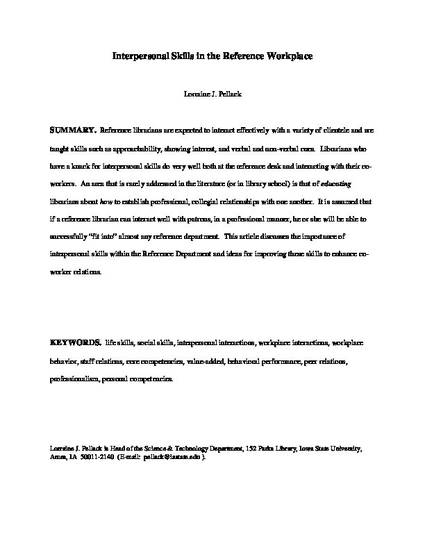 Article
Interpersonal Skills in the Reference Workplace
Reference Librarian
Publication Date
1-1-2003
DOI
10.1300/J120v40n83_06
Abstract
Reference librarians are expected to interact effectively with a variety of clientele and are taught skills such as approachability, showing interest, and verbal and non-verbal cues. Librarians who have a knack for interpersonal skills do very well both at the reference desk and interacting with their co-workers. An area that is rarely addressed in the literature (or in library school) is that of educating librarians about how to establish professional, collegial relationships with one another. It is assumed that if a reference librarian can interact well with patrons, in a professional manner, he or she will be able to successfully "fit into" almost any reference department. This article discusses the importance of interpersonal skills within the Reference Department and ideas for improving these skills to enhance co-worker relations.
Copyright Owner
The Haworth Press, Inc.
Citation Information
Lorraine J. Pellack. "Interpersonal Skills in the Reference Workplace"
Reference Librarian
Vol. 83/84 (2003) p. 57 - 70
Available at: http://works.bepress.com/lorraine_pellack/7/