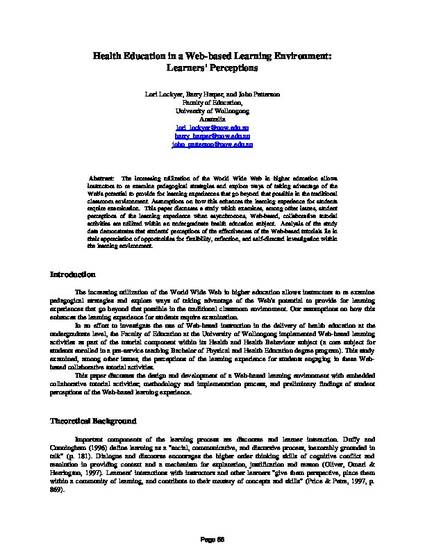 Presentation
Health Education in a Web-based Learning Environment - Learners' Perceptions.
Faculty of Education - Papers (Archive)
Publication Date
1-1-1999
Abstract
The increasing utilization of the World Wide Web in higher education allows instructors to re examine pedagogical strategies and explore ways of taking advantage of the Web's potential to provide for learning experiences that go beyond that possible in the traditional classroom environment. Assumptions on how this enhances the learning experience for students require examination. This paper discusses a study which examines, among other issues, student perceptions of the learning experience when asynchronous, Web-based, collaborative tutorial activities are utilized within an undergraduate health education subject. Analysis of the study data demonstrates that students' perceptions of the effectiveness of the Web-based tutorials lie in their appreciation of opportunities for flexibility, reflection, and self-directed investigation within the learning environment.
Citation Information
Lori Lockyer, Barry Harper and John W Patterson. "Health Education in a Web-based Learning Environment - Learners' Perceptions." (1999) p. 56 - 61
Available at: http://works.bepress.com/lori_lockyer/59/