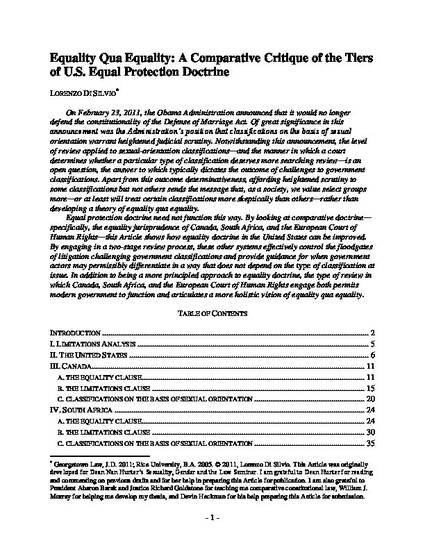 Unpublished Paper
Equality Qua Equality: A Comparative Critique of the Tiers of U.S. Equal Protection Doctrine
ExpressO (2012)
Abstract
On February 23, 2011, the Obama Administration announced that it would no longer defend the constitutionality of the Defense of Marriage Act. Of great significance in this announcement was the Administration's position that classifications on the basis of sexual orientation warrant heightened judicial scrutiny. Notwithstanding this announcement, the level of review applied to sexual-orientation classifications—and the manner in which a court determines whether a particular type of classification deserves more searching review—is an open question, the answer to which typically dictates the outcome of challenges to government classifications. Apart from this outcome determinativeness, affording heightened scrutiny to some classifications but not others sends the message that, as a society, we value select groups more—or at least will treat certain classifications more skeptically than others—rather than developing a theory of equality qua equality.
Equal protection doctrine need not function this way. By looking at comparative doctrine—specifically, the equality jurisprudence of Canada, South Africa, and the European Court of Human Rights—this Article shows how equality doctrine in the United States can be improved. By engaging in a two-stage review process, these other systems effectively control the floodgates of litigation challenging government classifications and provide guidance for when government actors may permissibly differentiate in a way that does not depend on the type of classification at issue. In addition to being a more principled approach to equality doctrine, the type of review in which Canada, South Africa, and the European Court of Human Rights engage both permits modern government to function and articulates a more holistic vision of equality qua equality.
Keywords
Equality,
Equal Protection,
Levels of Scrutiny,
Standard of Review,
Tiers,
Limitations Analysis,
Proportionality,
United States,
Canada,
South Africa,
European Court of Human Rights,
Comparative Law,
Constitutional Law,
Sexual Orientation
Publication Date
Winter February 21, 2012
Citation Information
Lorenzo Di Silvio. "Equality Qua Equality: A Comparative Critique of the Tiers of U.S. Equal Protection Doctrine"
ExpressO
(2012)
Available at: http://works.bepress.com/lorenzo_disilvio/1/