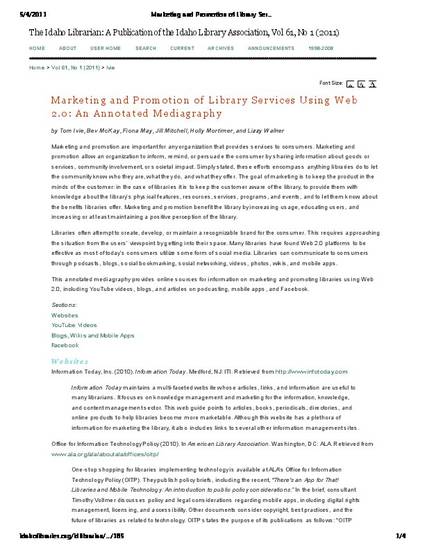 Article
Marketing and Promotion of Library Services Using Web 2.0: An Annotated Mediagraphy
The Idaho Librarian (2011)
Abstract
Marketing and promotion are important for any organization that provides services to consumers. Marketing and promotion allow an organization to inform, remind, or persuade the consumer by sharing information about goods or services, community involvement, or societal impact. Simply stated, these efforts encompass anything libraries do to let the community know who they are, what they do, and what they offer. The goal of marketing is to keep the product in the minds of the customer: in the case of libraries it is to keep the customer aware of the library, to provide them with knowledge about the library's physical features, resources, services, programs, and events, and to let them know about the benefits libraries offer. Marketing and promotion benefit the library by increasing usage, educating users, and increasing or at least maintaining a positive perception of the library.
Publication Date
Spring 2011
Citation Information
T. Ivie, B. McKay, F. May, J. Mitchell, et al.. "Marketing and Promotion of Library Services Using Web 2.0: An Annotated Mediagraphy"
The Idaho Librarian
Vol. 61 Iss. 1 (2011)
Available at: http://works.bepress.com/lizzy_walker/3/