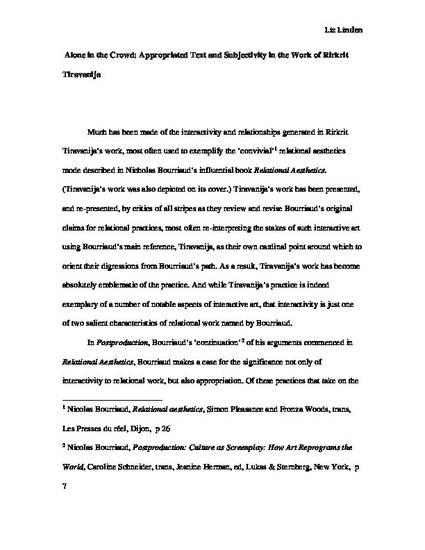 Article
Alone in the Crowd: Appropriated Text and Subjectivity in the Work of Rirkrit Tiravanija
Third Text (2016)
Abstract
The practice of Thai artist Rirkrit Tiravanija is perhaps the best-known exemplar of relational aesthetics, a distinction first made by Nicholas Bourriaud and affirmed in the writings of many subsequent art critics; but the critical focus on the interactive aspect of his works has tended to rely on utopian modes of community engagement, which ignore Tiravanija's strategic deployment of relational, interactive structures to implicate the viewer, publicly, in problematic political positions. Tiravanija commonly uses appropriation in his artworks as a way of exposing viewer's biases and this paper focuses specifically on his use of appropriated text to explore divided subjectivities in a globalised world. In Tiravanija's work with text, his longstanding engagement with appropriation is made plain, not only because found language has for so long served as a cornerstone of his practice, but also because the way he uses appropriated language underscores the broader political operations of his work that are often concealed in the rhetoric of relationality.
Keywords
Liz Linden,
Rirkrit Tiravanija,
appropriation art,
text art,
subjectivity,
relational aesthetics,
Nicholas Bourriaud,
Claire Bishop,
conceptual poetry,
Cathy Park Hong
Publication Date
July 3, 2016
DOI
10.1080/09528822.2017.1279395
Citation Information
Liz Linden. "Alone in the Crowd: Appropriated Text and Subjectivity in the Work of Rirkrit Tiravanija"
Third Text
Vol. 30 Iss. 3-4 (2016) p. 159 - 172 ISSN: 0952-8822
Available at: http://works.bepress.com/liz-linden/1/