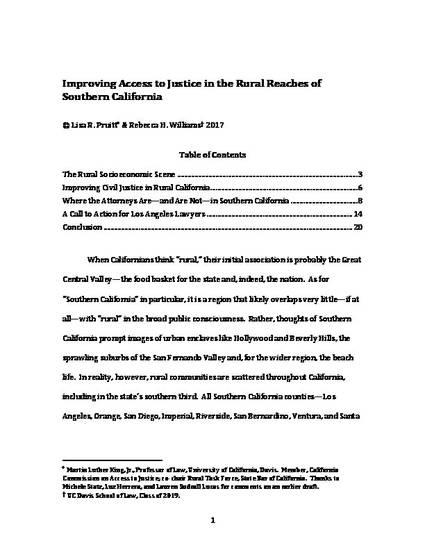 Article
Improving Access to Justice in the Rural Reaches of Southern California
LA Lawyer Magazine (2018)
Abstract
Our nation has, in recent years, become aware of the lawyer shortage afflicting rural communities, as well as associated access to justice challenges.  This short article, written for an issue of
Los Angeles Lawyer Magazine
dedicated to access to justice, focuses on Southern California's rural communities. In particular, we analyze recent data on attorney distribution throughout that region to highlight the extent and details of the rural attorney shortage in eight Southern California counties.
We begin by introducing the demographic and socioeconomic characteristics of rural communities, including high poverty rates, remoteness from services, poor public transportation infrastructure.  Next we analyze data compiled by Professor Emeritus James Meeker of UC Irvine, an ex officio member of the California Commission on Access to Justice, regarding the geographic distribution of attorneys within Southern California. That dataset, which provides the number of attorneys within each Medical Service Study Area (MSSA), a sub-county unit recognized by the U.S. Census Bureau, paints a comprehensive picture of where attorneys are—and are not—within the region. These data indicate that Southern California's rural communities are facing a significant attorney shortage, thus creating a dramatic justice gap in which relatively few rural attorneys are effectively unable to meet these communities' legal needs.
Finally, we issue a call to action to Southern California's urban lawyers and law schools.  The region's attorneys can minimize the rural-urban justice gap by directing more of their pro-bono efforts toward rural communities.  Attorneys and firms can also partner with legal aid organizations using innovative programs and technology to provide legal services to rural clientele.  Southern California law schools can also help meet rural justice needs by providing students with coursework and clinics that focus on rural issues, as well as by promoting summer rural programs and legal incubators that emphasize rural practice.  Closing the justice gap between urban and rural communities in Southern California will require a long-term effort, coordinated among multiple stakeholders.
Keywords
Access to Justice,
Legal Profession,
Geography,
Rural,
Legal Education,
Lawyer Shortage
Publication Date
February, 2018
Citation Information
Lisa R Pruitt and Rebecca H Williams. "Improving Access to Justice in the Rural Reaches of Southern California"
LA Lawyer Magazine
(2018)
Available at: http://works.bepress.com/lisa_pruitt/44/