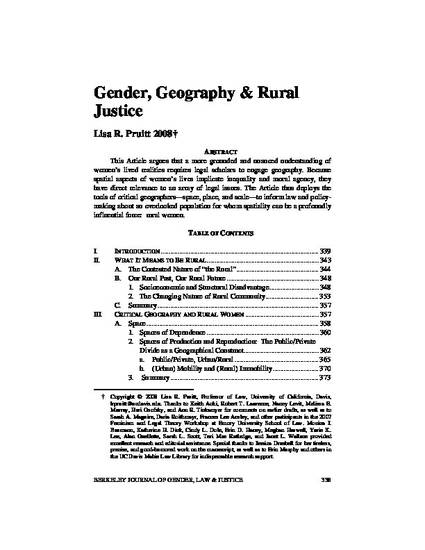 Article
Gender, Geography & Rural Justice
Berkeley Journal of Gender, Law & Justice (2009)
Abstract
Like other legal scholars, feminists often think about social change over time, using history as a lens to reveal disadvantage and injustice. They have demonstrated, for example, that the public/private divide and related separate spheres ideology are socially contingent developments based on evolving perceptions of women and gender roles. Shifts in such perceptions have thus informed legal changes, and vice versa.
I argue in this Article that a more grounded and more nuanced understanding of women's lived realities requires legal scholars to engage not only history, but also geography. Because spatial aspects of women's lives implicate inequality and moral agency, they have direct relevance to an array of legal issues. I thus deploy the tools of critical geographers—space, place, and scale—to inform law and policy-making about an overlooked population for whom spatiality can be a profoundly influential force: rural women.
Part II addresses the meaning of "rural" and discusses the term's contested character, which reflects the burgeoning variation among the places to which the label attaches. It also provides a brief economic and socio-cultural overview of rural America, with emphasis on changes in recent decades and on what we know about the everyday lives of rural women. This information provides a foundation for demonstrating how critical geography can reveal the ways in which spatial and other features of rural locales constrain and shape social relations and economic activity there.
Part III is a primer on critical geography, focusing on the key concepts of space, place, and scale. I discuss and illustrate how these concepts can reveal often obscured differences between rural women's lives and the implicit urban norm. Part III.A on "Space" theorizes the intersection of rural spatiality with gendered spatiality. I call attention to the associations of women not only with the private sphere, but also with nature and the country, all spaces where the law plays a lesser role. Women are thus doubly disempowered, by the literal, physical spaces that isolate them as well as by socio-spatial constructions of rurality and gender.
Part III.B on "Place" explores rurality as both literal and metaphorical locale. It moves beyond the broad rural/urban axis to discuss the gendered consequences of economic restructuring in two rural places, noting the resulting legal issues. The illustrations reveal how attention to the characteristics of a given rural place, as well as changes within them, can provide critical insights into law's role and appropriate application in that place.
Finally, in Part III.C, I use "scale," the degree of resolution at which a phenomenon is studied, to theorize law's roles in relation to rural women. While rural places are often viewed as quintessentially local, I show how rural communities are embedded in and increasingly economically and socially influenced by higher scales (e.g., national and global), even as they also influence behavior and outcomes in the nested scales of body and household. Because actors at various scales—including law and legal institutions—shape the rural milieu, they are also called upon to respond to problems there.
Keywords
gender,
rurality,
feminist theory,
geography,
space,
place,
scale
Citation Information
Lisa R Pruitt. "Gender, Geography & Rural Justice"
Berkeley Journal of Gender, Law & Justice
Vol. 23 Iss. 2 (2009)
Available at: http://works.bepress.com/lisa_pruitt/1/