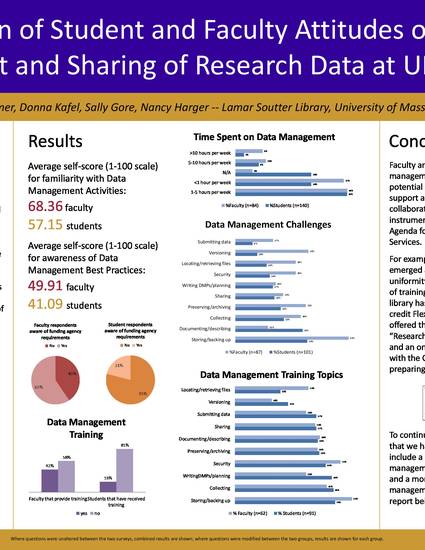 Presentation
A Comparison of Student and Faculty Attitudes on the Management and Sharing of Research Data at UMMS
University of Massachusetts and New England Area Librarian e-Science Symposium
Start Date
9-4-2015 12:00 PM
Description
Objective: This poster presents a comparison of student and faculty responses to surveys on data management attitudes that were distributed during 2014. In the Spring, the Lamar Soutter Library distributed a survey to UMMS students on their attitudes toward and awareness of research data management best practices. Similarly, in the Fall and using the student instrument as a guide, the library surveyed UMMS faculty on their attitudes and practices around research data management. Results from the surveys set a baseline and identified needed resources and training opportunities on campus.
Methods: Using both of these sources of data, we compare student and faculty attitudes on the management and sharing of research data at UMMS.
Results: Students and faculty survey results reveal some similarities between the two groups. While faculty self-scored higher for general familiarity with data management activities and awareness of data management best practices, students and faculty report similar responses to questions concerning time spent managing data, common data management challenges and solutions, and systems used to manage data. Survey data also informed targets groups for outreach and identified existing resources for data management support throughout the university.
Conclusions: Faculty and student responses to data management surveys at UMMS have revealed opportunities for collaboration and identified potential service areas for data management support. This feedback has been instrumental in informing the library's strategic agenda for library-based research data management services.
Keywords
Research Data Management,
Data Sharing
Creative Commons License
Creative Commons Attribution-Noncommercial-Share Alike 3.0
Citation Information
Rebecca Reznik-Zellen, Lisa A. Palmer, Nancy E. Harger, Sally A. Gore, et al.. "A Comparison of Student and Faculty Attitudes on the Management and Sharing of Research Data at UMMS" (2015)
Available at: http://works.bepress.com/lisa_palmer/39/