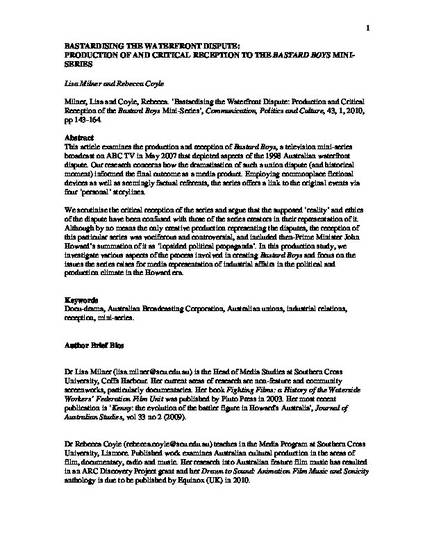 Article
Bastardising the Waterfront Dispute: production and critical reception of the Bastard Boys mini-series
Communication, Politics & Culture
Publication Date
1-1-2010
Peer Reviewed
Peer-Reviewed
Abstract
This article examines the production and reception of Bastard Boys, a television mini-series broadcast on ABC TV in May 2007 that depicted aspects of the 1998 Australian waterfront dispute. Our research concerns how the dramatisation of such a union dispute (and historical moment) informed the final outcome as a media product. Employing commonplace fictional devices as well as seemingly factual referents, the series offers a link to the original events via four 'personal' storylines. We scrutinise the critical reception of the series and argue that the supposed 'reality' and ethics of the dispute have been confused with those of the series creators in their representation of it. Although by no means the only creative production representing the disputes, the reception of this particular series was vociferous and controversial. In this production study, we investigate various aspects of the process involved in creating Bastard Boys and focus on the issues the series raises for media representation of industrial affairs in the political and production climate in the Howard era.
Citation Information
Post-print of: Milner, L & Coyle, R 2010, 'Bastardising the Waterfront Dispute: production and critical reception of the Bastard Boys mini-series', Communication, Politics & Culture, vol. 43, no. 1, pp. 143-164.