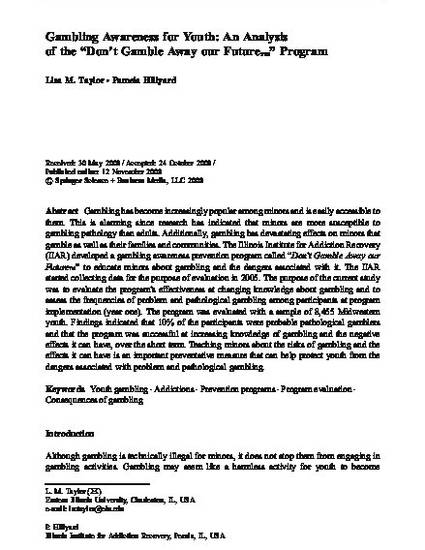 Article
Gambling Awareness for Youth: An Analysis of the "Don't Gamble Away Our Future" Program
International Journal of Mental Health Addiction (2009)
Abstract
Gambling has become increasingly popular among minors and is easily accessible to them. This is alarming since research has indicated that minors are more susceptible to gambling pathology than adults. Additionally, gambling has devastating effects on minors that gamble as well as their families and communities. The Illinois Institute for Addiction Recovery (IIAR) developed a gambling awareness prevention program called "Don't Gamble Away our Future™" to educate minors about gambling and the dangers associated with it. The IIAR started collecting data for the purpose of evaluation in 2005. The purpose of the current study was to evaluate the program's effectiveness at changing knowledge about gambling and to assess the frequencies of problem and pathological gambling among participants at program implementation (year one). The program was evaluated with a sample of 8,455 Midwestern youth. Findings indicated that 10% of the participants were probable pathological gamblers and that the program was successful at increasing knowledge of gambling and the negative effects it can have, over the short term. Teaching minors about the risks of gambling and the effects it can have is an important preventative measure that can help protect youth from the dangers associated with problem and pathological gambling.
Keywords
gambling,
adolescents,
gambling programs,
addictions
Citation Information
Lisa M Taylor. "Gambling Awareness for Youth: An Analysis of the "Don't Gamble Away Our Future" Program"
International Journal of Mental Health Addiction
Vol. 7 (2009)
Available at: http://works.bepress.com/lisa_marie_taylor/2/