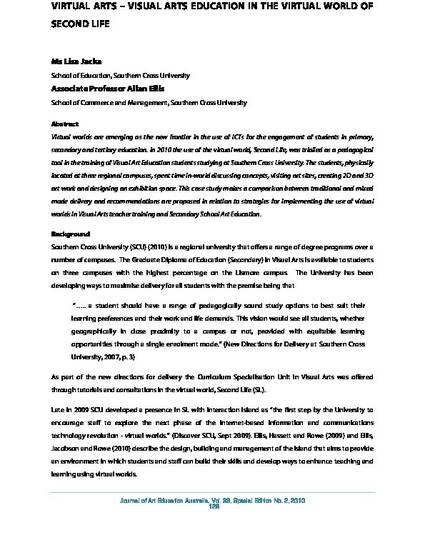 Article
Virtual arts: visual arts education in the virtual world of Second Life
Australian Art Education (2010)
Abstract
Virtual worlds are emerging as the new frontier in the use of ICTs for the engagement of students in primary, secondary and tertiary education. In 2010 the use of the virtual world, Second Life, was trialled as a pedagogical tool in the training of Visual Art Education students studying at Southern Cross University. The students, physically located at three regional campuses, spent time in-world discussing concepts, visiting art sites, creating 2D and 3D art work and designing an exhibition space. This case study makes a comparison between traditional and mixed mode delivery and recommendations are proposed in relation to strategies for implementing the use of virtual worlds in Visual Arts teacher training and Secondary School Art Education.
Publication Date
January 1, 2010
Citation Information
Jacka, L & Ellis, A (2010) 'Virtual arts: visual arts education in the virtual world of Second Life', Australian Art Education, vol. 33, no. 2 (Special edn), pp. 125-139.