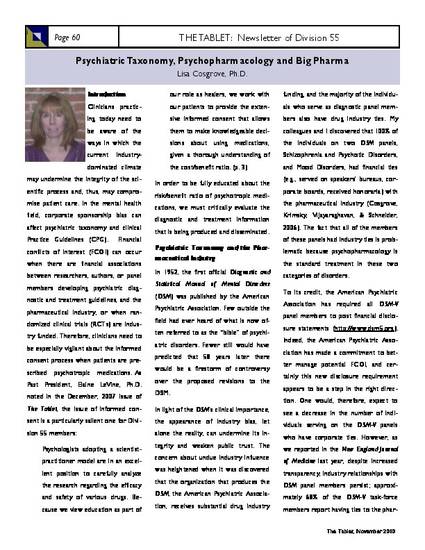 Article
Psychiatric Taxonomy, Psychopharmacology and Big Pharma
Counseling and School Psychology Faculty Publication Series
Publication Date
11-1-2010
Abstract
Clinicians practicing today need to be aware of the ways in which the current industry-dominated climate may undermine the integrity of the scientific process and, thus, may compromise patient care. In the mental health field, corporate sponsorship bias can affect psychiatric taxonomy and clinical Practice Guidelines (CPG). Financial conflicts of interest (FCOI) can occur when there are financial associations between researchers, authors, or panel members developing psychiatric diagnostic and treatment guidelines, and the pharmaceutical industry, or when randomized clinical trials (RCTs) are industry funded. Therefore, clinicians need to be especially vigilant about the informed consent process when patients are prescribed psychotropic medications.
Community Engaged/Serving
No, this is not community-engaged.
Publisher
American Society for the Advancement of Pharmacotherapy, Division 55 of the American Psychological Association
Citation Information
Lisa Cosgrove. "Psychiatric Taxonomy, Psychopharmacology and Big Pharma" (2010)
Available at: http://works.bepress.com/lisa_cosgrove/5/