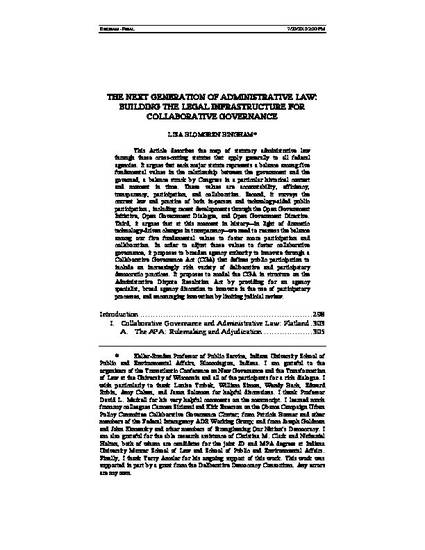 Article
The Next Generation of Administrative Law: Building the Legal Infrastructure for Collaborative Governance
Wisconsin Law Review (2010)
Abstract
This Article describes the map of statutory administrative law through those cross-cutting statutes that apply generally to all federal agencies. It argues that each major statute represents a balance among five fundamental values in the relationship between the government and the governed, a balance struck by Congress in a particular historical context and moment in time. These values are accountability, efficiency, transparency, participation, and collaboration. Second, it surveys the current law and practice of both in-person and technology-aided public participation , including recent developments through the Open Government Initiative, Open Government Dialogue, and Open Government Directive. Third, it argues that at this moment in history—in light of dramatic technology-driven changes in transparency—we need to reassess the balance among our five fundamental values to foster more participation and collaboration. In order to adjust those values to foster collaborative governance, it proposes to broaden agency authority to innovate through a Collaborative Governance Act (CGA) that defines public participation to include an increasingly rich variety of deliberative and participatory democratic practices. It proposes to model the CGA in structure on the Administrative Dispute Resolution Act by providing for an agency specialist, broad agency discretion to innovate in the use of participatory processes, and encouraging innovation by limiting judicial review.
Keywords
collaborative governance,
open government
Publication Date
Summer August, 2010
Citation Information
Lisa Blomgren Bingham. "The Next Generation of Administrative Law: Building the Legal Infrastructure for Collaborative Governance"
Wisconsin Law Review
Vol. 2010 (2010)
Available at: http://works.bepress.com/lisa_bingham/4/