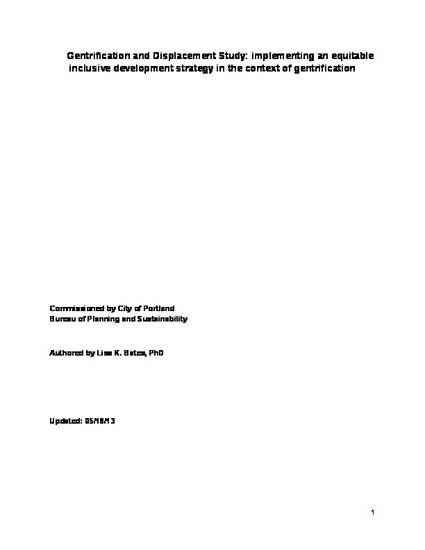 Other
Gentrification and Displacement Study: Implementing an Equitable Inclusive Development Strategy in the Context of Gentrification
Urban Studies and Planning Faculty Publications and Presentations
Sponsor
Commissioned by City of Portland Bureau of Planning and Sustainability
Document Type
Working Paper
Publication Date
5-1-2013
Subjects
Urban renewal -- Oregon -- Portland,
Neighborhoods -- Oregon -- Portland,
Gentrification -- Oregon -- Portland
Abstract
This study focuses on the effects on the housing market, particularly the loss of affordable housing. It builds upon earlier studies to consider a broader interpretation of displacement that encompasses not just when a household is forced to move by conditions that affect the dwelling, but also to take into account changes in the neighborhood as a whole. These neighborhood changes can result in a neighborhood's inability to provide basic services that make it impossible to continue residency as a "voluntary" response. Housing in Portland is almost exclusively produced by the private sector, with a limited public sector role through regulation, incentives, and some direct construction. The study recommends a market-conscious approach to gentrification embracing new principles that allow for:
An inclusive development paradigm with a racial/ethnic equity lens.
A recognition of how public investments affect the private market.
Ways to anticipate housing demand and market changes.
Options for utilizing the public sector to regulate and engage a range of private development and community actors to minimize the effect
Persistent Identifier
http://archives.pdx.edu/ds/psu/12451
Citation Information
Bates, Lisa K., "Gentrification and Displacement Study: Implementing an Equitable Inclusive Development Strategy in the Context of Gentrification" (2013). Urban Studies and Planning Faculty Publications and Presentations.
https://doi.org/10.15760/report-01