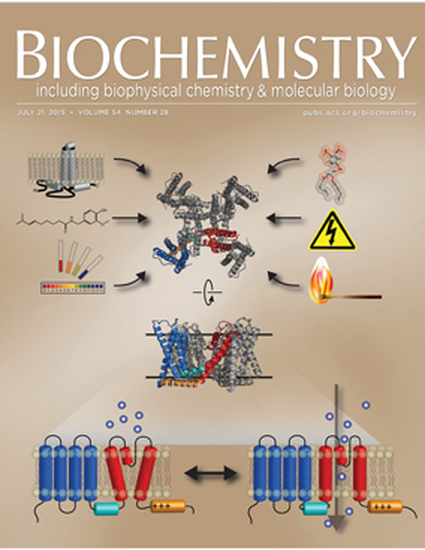 Article
Structure-Based Assignment of Ile, Leu, and Val Methyl Groups in the Active and Inactive Forms of the Mitogen-Activated Protein Kinase Extracellular Signal-Regulated Kinase 2
Biochemistry (2015)
Abstract
Resonance assignments are the first step in most NMR studies of protein structure, function, and dynamics. Standard protein assignment methods employ through-bond backbone experiments on uniformly <sup>13</sup>C/<sup>15</sup>N-labeled proteins. For larger proteins, this through-bond assignment procedure often breaks down due to rapid relaxation and spectral overlap. The challenges involved in studies of larger proteins led to efficient methods for <sup>13</sup>C labeling of side chain methyl groups, which have favorable relaxation properties and high signal-to-noise. These methyls are often still assigned by linking them to the previously assigned backbone, thus limiting the applications for larger proteins. Here, a structure-based procedure is described for assignment of <sup>13</sup>C<sup>1</sup>H<sub>3</sub>-labeled methyls by comparing distance information obtained from three-dimensional methyl−methyl nuclear Overhauser effect (NOE) spectroscopy with the X-ray structure. The Ile, Leu, or Val (ILV) methyl type is determined by through-bond experiments, and the methyl−methyl NOE data are analyzed in combination with the known structure. A hierarchical approach was employed that maps the largest observed "NOE-methyl cluster" onto the structure. The combination of identification of ILV methyl type with mapping of the NOE-methyl clusters greatly simplifies the assignment process. This method was applied to the inactive and active forms of the 42-kDa ILV <sup>13</sup>C<sup>1</sup>H<sub>3</sub>-methyl labeled extracellular signal-regulated kinase 2 (ERK2), leading to assignment of 60% of the methyls, including 90% of Ile residues. A series of ILV to Ala mutants were analyzed, which helped confirm the assignments. These assignments were used to probe the local and long-range effects of ligand binding to inactive and active ERK2.
Publication Date
July 21, 2015
DOI
10.1021/acs.biochem.5b00506
Citation Information
Yao Xiao, Lisa Warner, Michael P. Latham, Natalie G. Ahn, et al.. "Structure-Based Assignment of Ile, Leu, and Val Methyl Groups in the Active and Inactive Forms of the Mitogen-Activated Protein Kinase Extracellular Signal-Regulated Kinase 2"
Biochemistry
Vol. 54 Iss. 28 (2015) p. 4307 - 4319 ISSN: 00062960
Available at: http://works.bepress.com/lisa-warner/2/