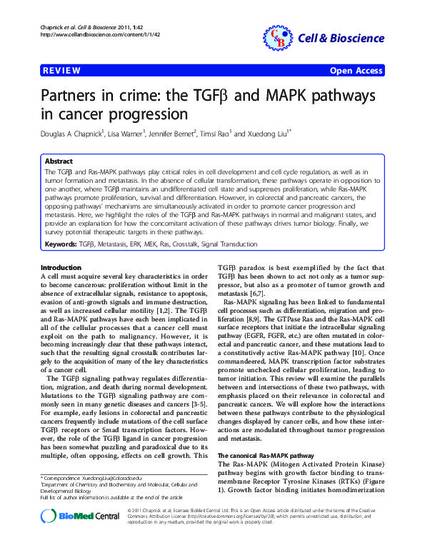 Article
Partners in Crime: The TGFβ and MAPК Pathways in Cancer Progression
Cell & Bioscience (2011)
Abstract
The TGFβ and Ras-MAPК pathways play critical roles in cell development and cell cycle regulation, as well as in tumor formation and metastasis. In the absence of cellular transformation, these pathways operate in opposition to one another, where TGFβ maintains an undifferentiated cell state and suppresses proliferation, while Ras-MAPК pathways promote proliferation, survival and differentiation. However, in colorectal and pancreatic cancers, the opposing pathways' mechanisms are simultaneously activated in order to promote cancer progression and metastasis. Here, we highlight the roles of the TGFβ and Ras-MAPК pathways in normal and malignant states, and provide an explanation for how the concomitant activation of these pathways drives tumor biology. Finally, we survey potential therapeutic targets in these pathways.
Keywords
TGFβ,
metastasis,
ERK,
MEK,
Ras,
crosstalk,
signal transduction
DOI
10.1186/2045-3701-1-42
Citation Information
Douglas A. Chapnick, Lisa Warner, Jennifer Bernet, Timsi Rao, et al.. "Partners in Crime: The TGFβ and MAPК Pathways in Cancer Progression"
Cell & Bioscience
Vol. 1 (2011) p. 42-1 - 42-8
Available at: http://works.bepress.com/lisa-warner/13/
Creative Commons license
This work is licensed under a Creative Commons CC_BY International License.