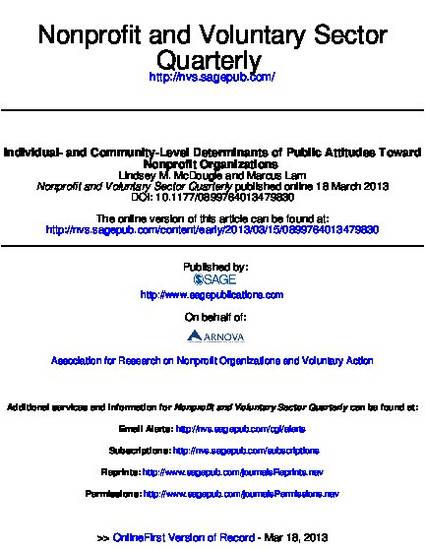 Article
Individual and community level determinants of public attitudes toward nonprofit organizations
Nonprofit and Voluntary Sector Quarterly (2013)
Abstract
It is often suggested that nonprofit organizations positively impact our local communities. Studies, however, have consistently shown that the distribution of these organizations varies considerably from one community to the next. These differences have led some scholars to begin raising serious concern about the degree of "charitable equity" across communities. Thus, the purpose of this study was to explore how the makeup of a community's nonprofit sector affects the views of those who potentially depend on nonprofit services. Specifically, using data from a countywide survey of public attitudes toward nonprofits in southern California (n = 1,002), we examined whether differences in the distribution of nonprofits affected individuals' confidence in nonprofit performance as well as their awareness of what nonprofit organizations even are. Findings indicated that nonprofit density was strongly related to awareness of the sector, while awareness was, in turn,strongly related to confidence in nonprofit performance.
Keywords
nonprofit organizations,
civic institutions,
public attitudes
Citation Information
Lindsey McDougle and Marcus Lam. "Individual and community level determinants of public attitudes toward nonprofit organizations"
Nonprofit and Voluntary Sector Quarterly
(2013)
Available at: http://works.bepress.com/lindseymcdougle/1/