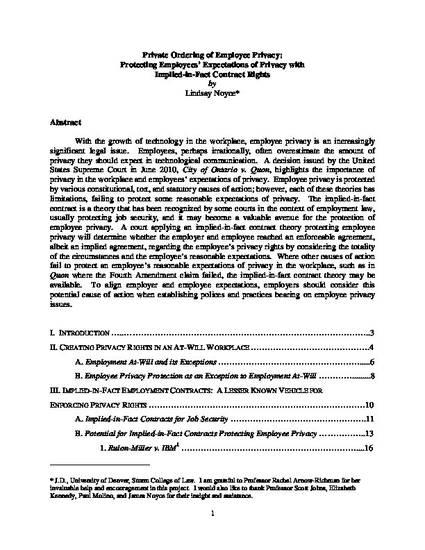 Unpublished Paper
Private Ordering of Employee Privacy: Protecting Employees' Expectations of Privacy with Implied-in-Fact Contract Rights
ExpressO (2010)
Abstract
With the growth of technology in the workplace, employee privacy is an increasingly significant legal issue. Employees, perhaps irrationally, often overestimate the amount of privacy they should expect in technological communication. A decision issued by the United States Supreme Court in June 2010, City of Ontario v. Quon, highlights the importance of privacy in the workplace and employees' expectations of privacy. Employee privacy is protected by various constitutional, tort, and statutory causes of action; however, each of these theories has limitations, failing to protect some reasonable expectations of privacy. The implied-in-fact contract is a theory that has been recognized by some courts in the context of employment law, usually protecting job security, and it may become a valuable avenue for the protection of employee privacy. A court applying an implied-in-fact contract theory protecting employee privacy will determine whether the employer and employee reached an enforceable agreement, albeit an implied agreement, regarding the employee's privacy rights by considering the totality of the circumstances and the employee's reasonable expectations. Where other causes of action fail to protect an employee's reasonable expectations of privacy in the workplace, such as in Quon where the Fourth Amendment claim failed, the implied-in-fact contract theory may be available. To align employer and employee expectations, employers should consider this potential cause of action when establishing polices and practices bearing on employee privacy issues.
Publication Date
September 6, 2010
Citation Information
Lindsay Noyce. "Private Ordering of Employee Privacy: Protecting Employees' Expectations of Privacy with Implied-in-Fact Contract Rights"
ExpressO
(2010)
Available at: http://works.bepress.com/lindsay_noyce/1/