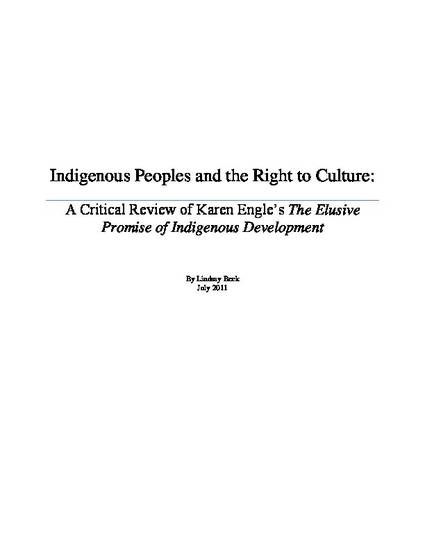 Unpublished Paper
Indigenous Peoples and the Right to Culture: A Critical Review of Karen Engle's The Elusive Promise of Indigenous Development
ExpressO (2011)
Abstract
What is the potential for claims based on the right to culture to ameliorate the conditions of indigenous peoples? In what ways does a right-to-culture strategy limit the potential of indigenous economic development? Karen Engle tackles these questions in her study, The Elusive Promise of Indigenous Development: Rights, Culture, Strategy. Engle's study is impressive and engaging in its questioning of the ways in which advocacy strategies impact economic development. This critical review, however, argues that Engle too readily dismisses self-determination, conceived as a human right rather than a right associated with political power, as a viable alternative to the right to culture. It also critiques Engle's argument that universal human rights are both imposed by the West and threatening to the cultural integrity of indigenous groups, arguing that universalism is capable of accommodating more difference than she gives it credit for. Finally, this review argues that Engle's book would benefit from a deeper probing of the parameters of indigenous difference and how the situation of indigenous peoples gives rise to rights distinct from other marginalised minorities.
Publication Date
July 9, 2011
Citation Information
Lindsay N Beck. "Indigenous Peoples and the Right to Culture: A Critical Review of Karen Engle's The Elusive Promise of Indigenous Development"
ExpressO
(2011)
Available at: http://works.bepress.com/lindsay_beck/1/