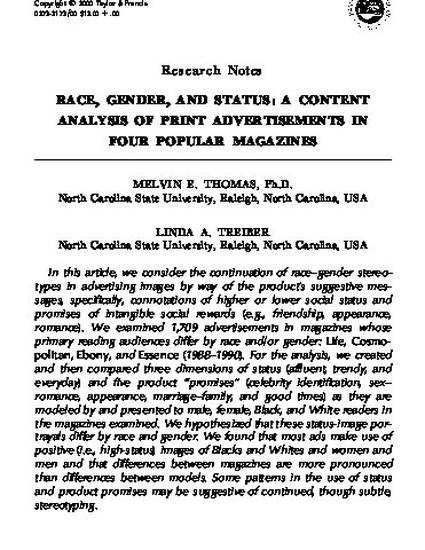 Article
Race, Gender, and Status: A Content Analysis of Print Advertisements in Four Popular Magazines
Sociological Spectrum (2000)
Abstract
In this article, we consider the continuation of race gender stereotypes in advertising images by way of the product's suggestive messages, specifically, connotations of higher or lower social status and promises of intangible social rewards (e.g., friendship, appearance, romance). We examined 1, 709 advertisements in magazines whose primary reading audiences differ by race and/or gender: Life, Cosmopolitan, Ebony, and Essence (1988-1990). For the analysis, we created and then compared three dimensions of status (affluent, trendy, and everyday) and five product promises (celebrity identification, sex romance, appearance, marriage family, and good times) as they are modeled by and presented to male, female, Black, and White readers in the magazines examined. We hypothesized that these status-image portrayals differ by race and gender. We found that most ads make use of positive (i.e., high-status) images of Blacks and Whites and women and men and that differences between magazines are more pronounced than differences between models. Some patterns in the use of status and product promises may be suggestive of continued, though subtle, stereotyping.
Keywords
advertising,
mass media social aspects,
gender,
stereotypes
Publication Date
July, 2000
Citation Information
Melvin E Thomas and Linda A Treiber. "Race, Gender, and Status: A Content Analysis of Print Advertisements in Four Popular Magazines"
Sociological Spectrum
Vol. 20 Iss. 3 (2000)
Available at: http://works.bepress.com/linda_treiber/6/